How to Share Your Favorite Videos with Others Using Your iPad
How to Share Your Favorite Videos with Others Using Your iPad
Your iPad can perform many handy tricks. One of the best parts about finding that great video is that you can share it with others. You can use Mail, Twitter, or Facebook:
1

Tap the Videos app on the Home screen to open it and then tap the Store button.

Find a video you want to share and tap it.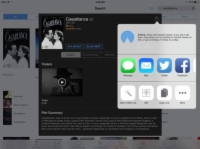 2

In the information screen, tap the Share button.

The Share button looks like a box with an arrow on top of it. It should be at the top of the screen.
3

Tap Mail, Twitter, or Facebook to use one of these methods of sharing your enthusiasm for the item.

Depending on the platform you choose, a related form will appear and prompt you for information.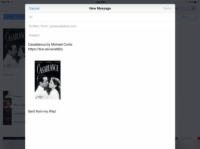 4

In the corresponding form, enter a recipient in the To field if required and then add to the message, if you like.

If you chose to post to your Facebook page, enter your message in the Facebook form.
5

Tap the appropriate Send (or Post) button to send your recommendation by your preferred method.

When you're viewing information about a video in the iTunes Store, you can tap the Related tab to find information about other movies or TV shows watched by those who watched this one.