How to Set Notification Types on Your iPad
How to Set Notification Types on Your iPad
Notifications on your iPad allows you to review all the things you should be aware of in one place, such as new mail messages, text messages, calendar appointments, reminders, and alerts.
Notification Center is a list of various alerts, appointments, and useful information such as stock quotes and weather that you can display by swiping down from the top of any iPad screen. Notification Center is on by default, but you can make settings to control what types of notifications are displayed.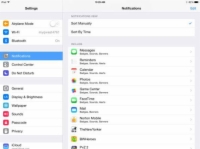 1

Tap Settings and then tap Notifications.

In the settings that appear, note the list of items you can set to be included in Notification Center — or not. Messages and Reminders may be included, for example.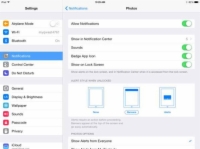 2

Tap any item.

In the settings that appear, tap the Show in Notification Center On/Off switch to include that item in, or exclude it from, Notification Center.
3

Tap an Alert Style to have no alert, a banner across the top of the screen, or a boxed alert.

If you choose Banner, the banner appears and then disappears automatically. If you choose Alerts, you have to take an action to dismiss the alert when it appears.
4

Badge App Icon is a feature that places a red circle and number on icons on your Home screens to represent alerts associated with those apps.

When this feature is turned on, you might see an indication of how many new emails you have waiting for you, for example. To turn this feature off, tap the On/Off switch for Badge App Icon.
5

If you want to be able to view alerts such as those about new messages when the Lock screen is displayed, turn on the Show on Lock Screen setting.

When you finish making settings for an individual app, tap the Notifications button to go back to the Notifications settings, or press the Home button to return to the Home screen.