How to Play Video on Your iPad
How to Play Video on Your iPad
No matter which iPad you own, watching movies and other videos on Apple's prized tablet is a cinematic treat. The iPad is not going to replace a wall-sized high-definition television as the centerpiece of your home theater, but the gorgeous Retina display on third-generation and later iPads has a higher-resolution screen than even the high-definition television in your living room.
Here's how to watch vide on your iPad:
1

On the Home screen, tap the Videos icon.

You see a tabbed interface for Movies, TV Shows and Music Videos. If Home Sharing is turned on your computer through iTunes, a Shared tab will also be visible.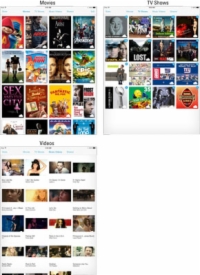 2

Tap the Movies tab.

The steps for TV shows and music videos is similar to that for movies. You see poster thumbnails for any movies you previously purchased through iTunes — even for those movies you haven't downloaded yet. (Some posters may only reveal a grayed-out box, showing the title of the movie, plus a filmstrip icon.)

If you see the iCloud symbol on the video thumbnail you can stream the movie, provided you have a decent Internet connection.

Tap Settings→Videos to choose whether to see thumbnails for all the videos you have stored in iCloud or on the device, or show only those that have been downloaded to your iPad.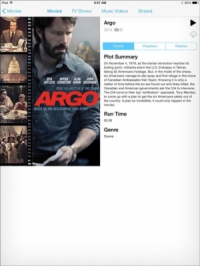 3

Tap the poster that represents the movie or other video you want to watch.

You are taken to a summary page for the movie revealing a larger movie poster, play button, and tabs for Details, Chapters, and Related.

Tap Details (if you're not already in that view) to see the plot summary, run time, and sundry other details about the movie in question.

Tap Chapters to jump to particular scenes or chapters in the movie and watch from that scene on. (If you're watching a TV show, you see the Episodes tab here instead.)

Tap Related to see posters representing other movies that are similar to this one, and that are, not so coincidentally, available to rent or buy in iTunes.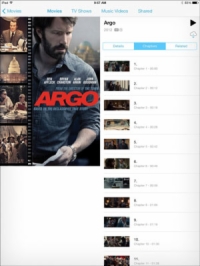 4

To start playing a movie (or resume playing from where you left off), tap the Play button.

Alternatively, from the Chapters view, tap any chapter to start playing from that point.

Tap Settings→Videos to change the setting to start playing from where you left off rather than to start playing from the beginning, or vice versa.
5

(Optional) Rotate your iPad to landscape mode to maximize a movie's display.

If you hold the iPad in portrait mode, you can see black bars on top of and below the screen where the movie is playing. Those bars remain when you rotate the device to its side, but the iPad plays the film in a wider-screen mode (depending on the video).

For movies, this is a great thing. You can watch flicks as the filmmaker intended, in a cinematic aspect ratio.