How to Insert Tables into Any iWork Document on Your iPad
How to Insert Tables into Any iWork Document on Your iPad
If you want a clean and organized set of data, the tables that you can insert in any iWork for iPad app do the trick. The steps in this section work in any of the apps, including Numbers. Here's how to add a simple table without formulas to any iWork document:
1

With an iWork document open, tap the Insert button on the right side of the toolbar.

The iPad waits to learn where you want to insert an object.
2

Tap the location where you want to insert the table.

In Pages, it's a location in a sentence (or, by default, where the cursor currently rests); in Numbers, it's a sheet; and in Keynote, it's a slide.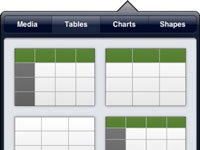 3

From the Insert popover, tap Tables.

You have four layouts with six color combinations to choose from.
4

Tap the table layout you want to use.

The table is placed in the Pages document.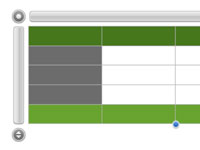 5

Use the round button at the top left of the table and the handles to move and reconfigure the table.

The round button to the left of the column frame selects the table and lets you drag it to where you want it. The handles at the right, bottom, and bottom-right let you resize the table.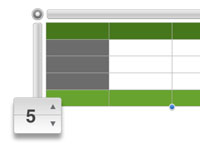 6

Use the controls (the circles with the up and down arrows on them) to the right of the column frame and bottom of the row frame to change the number of columns and rows.

This part is a little different in Keynote and Pages from what you'll see in Numbers.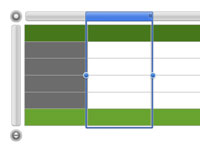 7

Select a row or column by tapping in the row frame or column frame, respectively.

The row or column is selected and outlined in blue.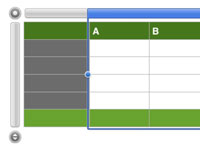 8

Expand the selection by using the handles on the sides of the selection.

The double lines in the top-right corner of the selection let you expand or contract the selected columns. The interface is the same for rows except that it's shown horizontally.