How to Import Word or Pages Documents into Your iBooks Author e-Book
How to Import Word or Pages Documents into Your iBooks Author e-Book
If you want to use Word or Pages files in your e-book, iBooks Author can open Microsoft Word files (both the .doc and .docx versions) and Apple Pages files. You can also drag RTF (Rich Text Format) documents and text-only files (.txt, .html, .htm, and other unformatted ASCII files) into iBooks Author. (The white + [plus sign] symbol in a green circle appears near the pointer if the item can be placed in iBooks Author. The text is inserted into an existing text box if you release the pointer over a text box. A new text box is created if you release the pointer outside a text box.
For copying and pasting, you can copy text from any application that lets you select and then copy or cut text, though text formatting is preserved only if you copy from Word or Pages.
To import a Word or Pages document, follow these steps: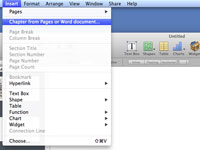 1

Choose Insert→Chapter from Pages or Word Document.

A settings sheet appears, where you can choose the document.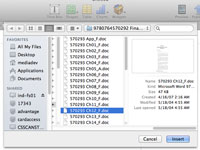 2

Select a document and then click the Insert button.

A second settings sheet appears, showing thumbnails of the available layouts.
3

Click the layout that you want to apply.

You can access more layouts than initially appear in the settings sheet; just scroll through the list to see them.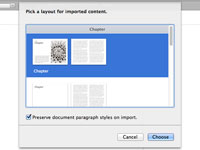 4

(Optional) Select the Preserve Document Paragraph Styles on Import option.

If selected, this option loads the paragraph and character styles defined in the imported Word or Pages document.
5

Click the Choose button to import the document.

Importing such a file creates a new chapter at the end of your e-book, based on the layout you choose during import. All text flows in the mainbar space defined in the chapter layout.