How to Enhance Bitmapped Images in iBooks Author
How to Enhance Bitmapped Images in iBooks Author
When working with bitmapped images in iBooks Author (that is, all supported images except for Adobe Illustrator and PDF files), you can apply a variety of enhancements and effects. To apply image enhancements or effects — similar to the basic photo-retouching capabilities in Apple's iPhoto, Apple's Aperture, or Adobe's Photoshop Elements — follow these steps: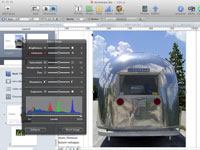 1

Choose View→Show Adjust Image to open the Adjust Image panel.

iBooks Author lets you import or drag in most popular bitmap formats (used for photos, screenshots, and other images composed of pixels) — GIF, JPEG, Photoshop (.psd), PICT, PNG, RAW, TIFF, and Windows bitmap (.bmp).
2

Select an image.

You can drag any of the supported image formats into an image gallery, as well as add images to it by choosing Format→Gallery→Add Image.
3

Apply enhancements and effects by using the appropriate sliders in the Adjust Image panel.

You can change brightness, contrast, saturation, color temperature, color tint, sharpness, light exposure, and color levels. While you make the adjustments, they're applied live to your image.
4

(Optional) Click the Enhance button to have iBooks Author try to figure out the best enhancements to apply.

If you click Enhance, any enhancements you've applied through the sliders are replaced with iBooks Author's choices. To undo any applied enhancements, click the Reset Image button.