How to Create a VIP List on Your iPad's Contact List
How to Create a VIP List on Your iPad's Contact List
iOS 6 introduced a new feature called VIP List to the Mail app. This feature allows you to create a list of senders that you consider high priority. When any of these senders sends you an e-mail, you're notified through the iPad's Notifications feature. Here's how to turn the feature on.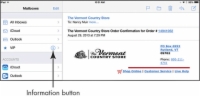 1

In the Mailboxes list in Mail, tap the Information button to the right of VIP.

The information button is a lowercase i.
3

Tap a contact to add that person to your VIP list.

After this, press the Home button.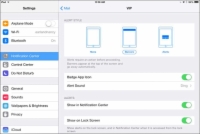 5

Tap the Show in Notification Center On/Off button to turn on notifications for VIP mail.

Tap an alert style, and specify whether the iPad should use a badge icon or sound to alert you. You can also choose to display VIP alerts on your Lock screen.
6

Press the Home button to close Settings.

New mail from your VIPs should now appear in Notification Center when you swipe down from the top of the screen. Depending on the settings you chose in the previous step, the iPad may play a sound, display a note on your Lock screen, or display a blue star icon to the left of these messages in your Mail Inbox.