How to Create a Preview of Your iBooks Author e-Book
How to Create a Preview of Your iBooks Author e-Book
If you used iBooks Author to create your book and plan to distribute it, you can do so in the iBookstore. First you create an account. After that is set up, you must prepare a preview version of your e-book file in iBooks Author so that potential buyers can download it for free to their iPad to see whether they want to get the full edition. In iBooks Author, follow these steps: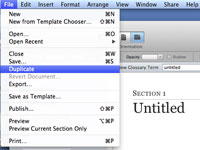 1

Choose File→Duplicate to make the copy.

You're going to be deleting a large chunk of your e-book text to make your preview, so working from a duplicate is rather important.
2

Remove everything but the portion of the book you want in the preview.

For example, you might delete all but the first chapter. Or you might delete all but the first two pages in each chapter. You decide what to provide in the preview.
3

Choose File→Duplicate.

A copy of the book document appears in a new window.
4

Choose File→Save.

Alternatively, you can press Command+S. A settings sheet appears.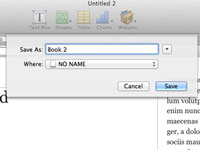 5

Enter the filename in the Save As field, use the navigation section to specify the file's location, and click Save to save the file.

You might want to name this file the same as your main e-book file but with the word Preview added to it.
6

Choose File→Export to export the preview version of the book document.

Alternatively, you can choose Save→Export. The settings sheet in which you export the iBooks version (a .ibooks file) of that e-book preview opens.
7

Click the iBooks icon button and then click Next.

A new settings sheet appears.