How to Build Transitions in Keynote for iPad
How to Build Transitions in Keynote for iPad
You can enliven a Keynote presentation on your iPad and make it a better communication tool by using Keynote animations to animate the transition as you move from one slide to another.
Tap a slide and then tap Transition from the toolbar that appears. Tap OK to begin setting a transition. When you tap OK, you move to the transition editor. Notice the Done button in the top-right corner of the screen — until you tap the Done button, you're working on a transition.
Though a transition may appear to happen between two slides, it happens after you tap a slide to go to the next one. The transition is attached to the first slide in the sequence of two adjacent slides.
Here's how to build a transition: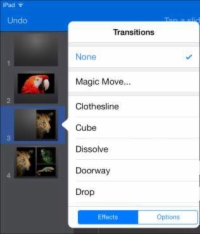 1

In the navigator on the left side of the screen, tap the slide for which you want to build a transition and tap Transition on the toolbar that appears.

The list of transition effects appears in a popover, as shown in the figure. A number of transition effects are available; swipe up and down to see them all. (The list of transitions is controlled by the Effects button at the bottom-left corner of the popover.)
2

When you find a transition effect that interests you, tap the name and then tap Play to select it and see a preview.

The preview plays.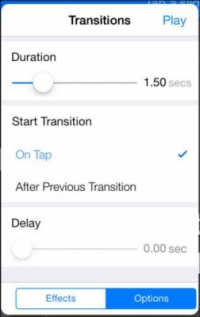 3

Tap the Options button in the bottom-right corner of the popover to set the effect options, as shown in this figure.
4

Set the duration and when the effect starts.

If you want the effect to start after a delay of a certain duration, use the Delay setting.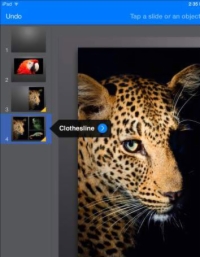 5

Continue to change the effects and options until you're satisfied.

You'll probably want to try the combinations by tapping the Play button in the upper-right side of the popover several times.

After you apply a transition effect to a slide, it appears whenever you select that slide in the navigator and then tap Tools___Transitions and Builds, as shown in the figure.