How to Assign a Photo to a Contact on Your iPad
How to Assign a Photo to a Contact on Your iPad
With the Contacts application on your iPad, you can add a person's photo to his contact record. You add photos from the Photos app albums, which you have saved from a Web site, uploaded from a digital camera, received as an e-mail attachment, captured as a screenshot, or synced from photo collections stored on your computer.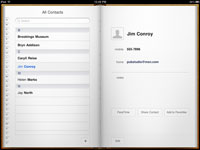 1

With Contacts open, tap the contact you want to add a photo to.

If you want a more powerful contact-management app, check out Contact Journals – iPad Edition. It syncs with your Contacts app content and can also sync with a computer contact-management program such as Outlook.
3

Tap either Saved Photos or Photo Library, depending on where the photo is stored.

Saved photos are those you've downloaded to your iPad or taken using the screen capture feature; the Photo Library contains photos synced from your computer.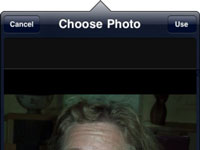 4

In the photo album that appears, tap a photo to select it.

The Choose Photo dialog appears. If you want to modify the photo, move the image around in the frame with your finger, or shrink or expand it by pinching your fingers inward or outward.