How to Update iPad 2 Software
How to Update iPad 2 Software
Apple occasionally updates the iPad system software to fix problems or offer enhanced features. Check for updates to your iPad system software about once a month or so, and you'll keep your iPad running as smoothly as possible.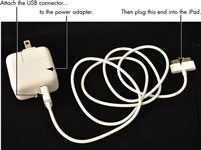 1

Start by connecting your iPad to your computer using the Dock Connector to USB Cable.

Your computer now recognizes your iPad as a device that's attached to it.
2

On your computer, open iTunes.

The iTunes app opens.

Make sure you have the latest version of iTunes before proceeding. If needed, take a few moments now to update the iTunes software on your computer.
4

Click the Summary tab.

The Summary options appear.
5

Click the Check for Update button.

iTunes displays a message telling you whether a new update is available.
6

Click the Update button.

The iPad system software is updated.

Do not disconnect your iPad from the computer until the update is complete.

If you're having problems with your iPad, you can use the Update feature to try to restore the current version of the software. Follow the preceding set of steps, and then click the Restore button instead of the Update button.