The Start Screen's Internet Explorer App on Your Surface
The Start Screen's Internet Explorer App on Your Surface
Your Surface contains two versions of Internet Explorer, each opened in a slightly different way. Here, you will find out how to open each, and when to choose one browser over another.
Opening the Start Screen's Internet Explorer app
You'll find yourself using the Start screen browser much more often than the desktop browser. Unlike the desktop browser, the Start screen browser is designed for your fingers, and its icon lives directly on the Start screen.

To open the Start screen's browser, tap its icon (shown in the margin) on the Start screen. The browser opens, filling the screen.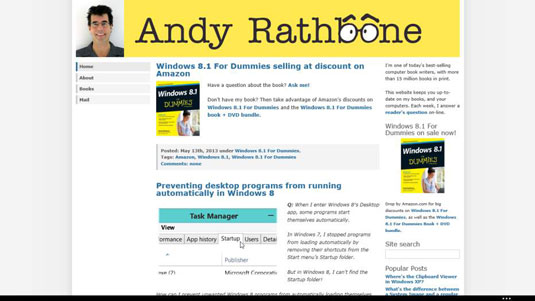 When opened, the Start screen's browser displays one of these three things:
Your home page: When opened for the first time, the Start screen's browser displays your home page: a favorite site you've chosen to display whenever you open Internet Explorer. If you haven't chosen a home page, Microsoft fills the screen with one of its own websites.

Your last-visited site: Unless you specifically closed the browser after your last visit, the browser displays the same site you last visited.

You're not connected: When the browser displays this alarming error message, it means your Surface lacks an Internet connection.
But no matter which page your browser displays upon opening, notice how the page completely fills the screen. That makes the page easier to read, but it also highlights the Internet Explorer app's greatest weakness: The browser hides all of its menus.
You may not miss the menus, though. The browser loads quickly, works very well with your fingers, and you can easily tap one site's links to jump to another site. The fast-loading browser excels at serving up quick bits of information, which is what most people need from the Start screen.
Windows 8.1 adds a lot of power to the Start screen's browser, and it's often all a Surface owner needs.
Opening the desktop's Internet Explorer
Opening the Desktop app's version of Internet Explorer on the Surface takes more effort: You won't find an icon for it on the Start screen. That's actually a good thing because the desktop's browser is very difficult to use with your fingers.
If you have a mouse and keyboard and need to run the desktop's browser in a window, follow these steps:
From the Start screen, tap or click the Desktop app's tile.

The traditional Windows desktop appears.

From the taskbar along the desktop's bottom, tap or click the Internet Explorer icon next to the Start button in the screen's bottom-left corner.
Internet Explorer leaps to the screen in its own window.