General (Macs)
Even a user-friendly brand like the Mac could be even user-friendlier. That's where we come in. Beefing up security on your iMac? Connecting devices with a USB cable? We have quick tips.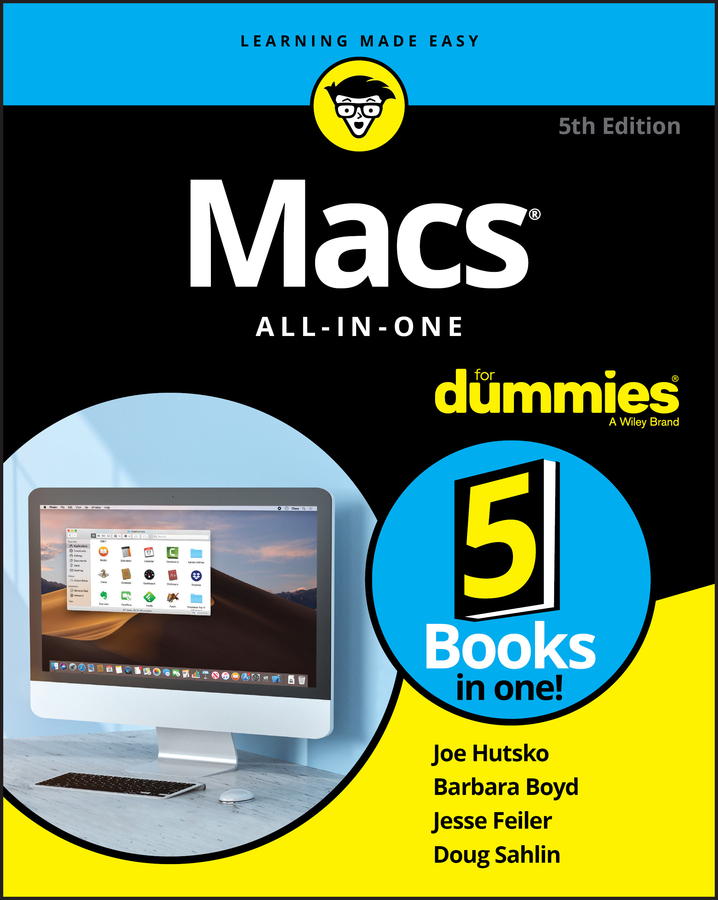 General (Macs)
Macs All-in-One For Dummies
Published 01-09-2020
Your all-in-one guide to the wonderful world of your Mac
Are you getting the most from your Mac? Given what's possible, it's pretty unlikely. Whether you're just beginning your journey or are already a seasoned traveler, the six information-packed minibooks included in Macs All-in-One for Dummies open up a world of knowledge, from how to set up a recently bought Mac to exploring the coolest new features on your beloved device.
Now updated with what you need to know about the newest generation of hardware and software, Macs All-in-One For Dummies is your guide to simply everything: protecting your Mac; backing up and restoring data with Time Machine; managing applications on the Dock, Launchpad, and Desktop; syncing with iCloud, organizing your life with Calendar, Reminders, Notes, and Notifications; presenting with Keynote; crunching with Numbers; getting creative with iMovie and GarageBand—the list goes on!
Explore the newest version of MacOS
Set up and customize a new Mac with ease
Become more efficient, professional, smart, and creative with the latest must-have apps
Use Home Sharing to stream content to other computers, iOS devices, and Apple TVs
Dive into six books in one place: Mac Basics, Online Communications, Beyond the Basics, Your Mac as a Multimedia Entertainment Center, Taking Care of Business, and Mac Networking
Whatever you want from your world of Mac, you'll find it here—as well as a million other incredible things you'll love. Get started on your new Mac journey today!
Explore Book
General (Macs)
Macs For Seniors For Dummies
Published 11-12-2019
Right now is always the right time to become a Mac expert!
It's never too late to become an expert on Macs—and this friendly, updated guide written specifically for the 50+ set is the easy way to do it! Featuring larger text and figures, Macs for Seniors for Dummies takes you through all you need to know to get the most out of your Apple computer. It makes it simple for you to stay in touch with family and friends, enjoy your favorite music, TV, and movies, and hang with the younger generation using the latest social apps and video games.
Beginning with which Mac to choose for your needs, you'll learn about setting up your computer, understanding files and folders, getting the most from the latest operating system, navigating the desktop, and troubleshooting common problems. And once you've found your feet there, it'll be time to get creative with home movies and photography, chat face-to-face live on video, communicate through email—the sky's the limit!
Set up and customize your Mac
Make FaceTime calls and send emails
Store photos and files using iCloud
Play video, movies, podcasts, and games
Macs are for all ages! Show the Millennials in your life a thing or two and become a pro with yours today!
Explore Book
General (Macs)
Macs For Dummies
Published 05-31-2016
Take a bite out of all your Mac has to offer with this bestselling guide
So, you joined the cool kids club and bought a Mac. Kudos! Now, do you dare admit to your sophisticated Mac mates that you still need some help figuring out how it works? No worries, Macs For Dummies is here to help! In full color for the first time ever, the latest edition of this long-running bestseller takes the guesswork out of working with your new Mac, providing easy-to-follow, plain-English answers to every possible question in the book!
Whether you're trying to figure out the basics of getting around the OS X interface, learning the ins and outs of turning your Mac into a sleek productivity tool, or anything in between, Mac For Dummies makes it fast and easy to navigate your way around your new Apple computer. You'll get the know-how to rocket into cyberspace, browse the Web, send messages, back up files to the Cloud, deal with security issues, get productive with leading Mac apps, and have fun with one-stop shopping for music, movies, and media.
Navigate OS X El Capitan with confidence and ease
Use your Mac to power your audio and video systems
Add your Mac to your home network
Troubleshoot common problems when your Mac starts misbehaving
Fully updated to cover the latest hardware and software releases, Macs For Dummies offers everything you need to get your geek on—and make your Mac your minion.
Explore Book