Windows 11
Uncover all the tricks and tips to make this operating system work for you.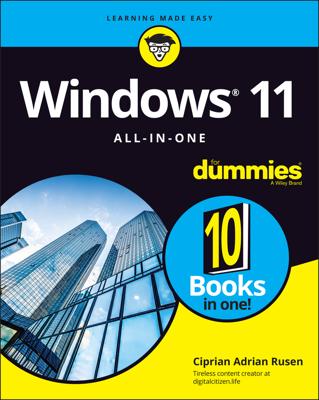 Windows 11
Windows 11 All-in-One For Dummies
Get more out of your Windows 11 computer with easy-to-follow advice Powering 75% of the PCs on the planet, Microsoft Windows is capable of extraordinary things. And you don't need to be a computer scientist to explore the nooks and crannies of the operating system! With Windows 11 All-in-One For Dummies, anyone can discover how to dig into Microsoft's ubiquitous operating system and get the most out of the latest version. From securing and protecting your most personal information to socializing and sharing on social media platforms and making your Windows PC your own through personalization, this book offers step-by-step instructions to unlocking Windows 11's most useful secrets. With handy info from 10 books included in the beginner-to-advanced learning path contained within, this guide walks you through how to: Install, set up, and customize your Windows 11 PC in a way that makes sense just for you Use the built-in apps, or download your own, to power some of Windows 11's most useful features Navigate the Windows 11 system settings to keep your system running smoothly Perfect for anyone who's looked at their Windows PC and wondered, "I wonder what else it can do?", Windows 11 All-in-One For Dummies delivers all the tweaks, tips, and troubleshooting tricks you'll need to make your Windows 11 PC do more than you ever thought possible.
Explore Book
Buy On Amazon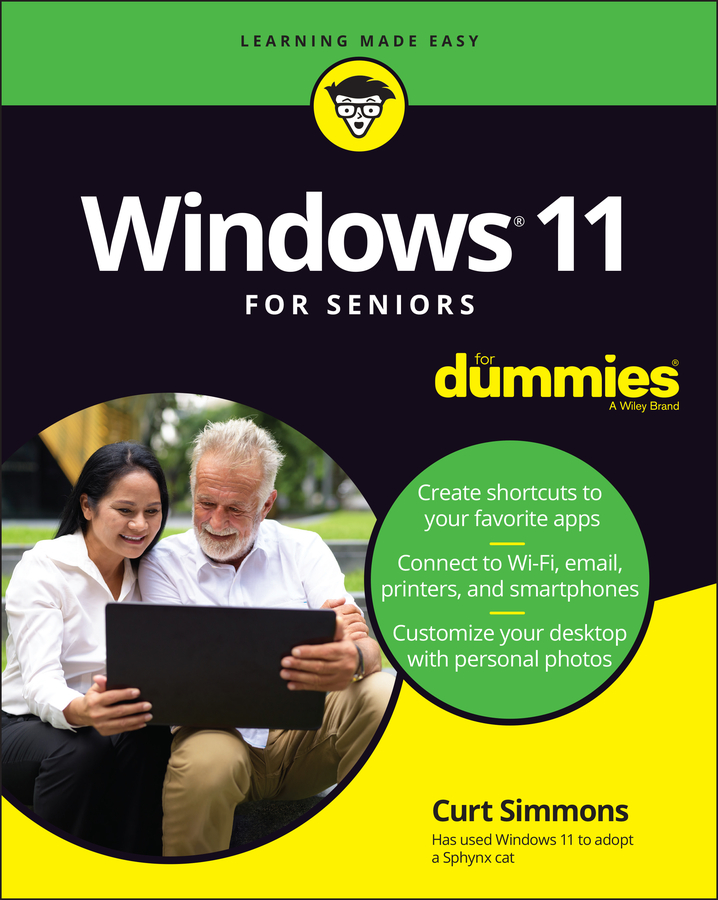 Windows 11
Windows 11 For Seniors For Dummies
Don't call your tech guru for help—get this book and help yourself! What do you want to do with your Windows computer? Sign up for Facebook to keep up with your friends? Watch a video taken during the latest family trip? Find your latest email messages with a single click of the mouse? Look no further than Windows 11 For Seniors For Dummies to discover how to do these tasks and others that you depend on a daily basis. With this guide to the popular operating system, you find the clear and easy instructions to checking tech tasks off your to-do list. This book focuses on giving you the steps—with plenty of helpful illustrations—you need to complete the essential tasks that you perform throughout your day, like connecting with friends on social media, customizing your Windows 11 desktop with personal photos, and emailing the family about weekend plans. You also find out how to navigate Windows 11 and enhance it with the apps and widgets that you use. Other topics include: Adding shortcuts to favorite apps Personalizing your desktop Creating your private Windows account Setting up the email app Having news delivered to your desktop Chasing down lost files Tweaking your digital photos Setting your security and forgetting about it Reach for Windows 11 For Seniors For Dummies whether you need a basic introduction to Windows, want a refresher on Windows 11, or have a question you want answered right away. You can then spend less time looking for help on how your computer works and more time enjoying the fun parts of life.
Explore Book
Buy On Amazon
Windows 11
Windows 11 For Dummies
Need Windows help? Find the latest tips and tricks in this perennial favorite on Windows Windows 11 promises to be the fastest, most secure, and most flexible version of the Microsoft operating system yet. With a promise like that, of course you want to start using it, as quickly as possible! Windows 11 For Dummies gives you that speed, security, and flexibility by getting you up to date with the latest in Windows. Windows expert and bestselling author Andy Rathbone gives you a helping hand by showing you how to get around the newly updated Windows 11 interface, how to use the new Windows tools like Teams and widgets, and how to use Android apps. Your tour of Windows 11 starts with the Start menu and ends with how to troubleshoot when things go wrong. In between you find out how to find files on your hard drive, connect with friends and colleagues on Microsoft Teams, transfer photos from your phone to your hard drive, or switch between your desktop and laptop. Additional topics include: Navigating the Start menu Finding where your files are hiding Adding separate user accounts to keep your kids out of your business Connecting to a WiFi network Customizing your widgets Switching to a laptop or tablet You know what you want to get done. Keep Windows 11 For Dummies by your desktop, laptop, and tablet, and you can open it at any time to find out how to get your Windows computer to do what you need.
Explore Book
Buy On Amazon