Microsoft views Windows 11 as a one-size-fits-all computing solution that runs on laptops and desktop PCs, as well as on touch-screens, including tablets.

Windows 11 looks and behaves almost identically on each device, and it brings a bonus: Its apps and programs will run on a Windows 11 tablet, PC, and laptop.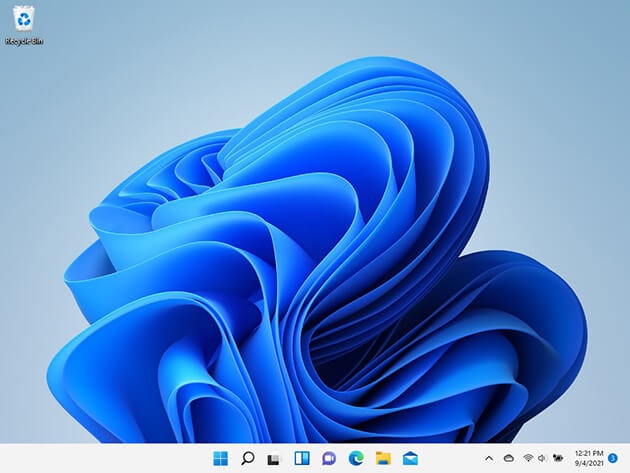 Besides aiming to run on everything but clock radios, Windows 11 brings these changes to your computer:
Start button and menu: Windows 11 moves the Start button and menu from its traditional lower-left corner to the center of the screen. The revamped Start menu sports a few rows of icons, but leaves out the animated tiles found in Windows 10. Look closely, and you'll notice the Start menu now sports rounded corners, as do all other desktop windows.
Hardware requirements: Previous Windows versions worked fairly well on older PCs, even those up to ten years old. Windows 11 breaks that model, unfortunately. If your computer is older than three years, you probably won't be able to upgrade it to Windows 11.
Settings app: Have you mastered Windows 10's Settings menu? Erase that memory, because the new Settings app contains a new layout with new switches in new places.
Apps on the desktop: Apps, which are small programs from the world of phones and tablets, consumed the full screen in Windows 8 and 8.1. Windows 11 lets you choose whether to run apps full screen or within desktop windows. (Microsoft says Windows 11 will let you download and run apps designed for Android smartphones sometime in 2022.)
File Explorer: File Explorer, which lets you find, store, and manage files, receives a new, slimmed down look. The ribbon of menu options across the top has vanished, replaced by a single row of unnamed icons.
Teams Chat: When everybody jumped onto Zoom for video chats during the pandemic, Microsoft decided to push its own Teams app for people to hold online meetings. The chat portion of Microsoft's Teams program now comes built into Windows 11.
Your Phone: The newly revamped Your Phone app lets you send and receive your phone's messages from the keyboard of your desktop PC, all wirelessly. You can browse your phone's latest photos from your desktop, make phone calls, and even run apps.
Widgets: Widgets are simply a strip of little windows that update automatically to show the latest news, weather, or other informational tidbits. They leap onto the screen with a click on its taskbar icon.
What's missing from Windows 11?
Windows 11 offers many new features, described in the previous section and cov-ered throughout this book. However, it dropped just as many features found in Windows 10. Here's the rundown on the features left behind from Windows 11:
Compatibility: Windows 10 could run on many older PCs, making it popular with owners of old Windows 7 PCs. Windows 11, by contrast, requires newer PCs with the latest technology. Chances are, you'll have to buy a new PC. (I had to buy a new PC just to write this book!)
Timeline: Windows 10 kept track of which programs and files you worked with for the past 30 days. A click of the Timeline button let you jump back to see them all, letting you quickly and easily jump back to, say, an unfinished file from last week. Windows 11 removes the feature, offering no replacement.
Movable taskbar: The Windows taskbar normally lives along the screen's bottom edge. Previous Windows versions let you move that taskbar to any edge you wanted. With Windows 11, the taskbar now remains affixed to the bottom of your desktop, with no option to move it.
Synced wallpaper: In Windows 10, owners of Microsoft accounts see their wallpaper appear whenever they log onto a Windows 10 PC. To the dismay of computer decorators, Windows 11 killed that feature.
Tablet mode: Designed specifically for tablets with touchscreens, Tablet mode quickly spaced your icons farther apart to accommodate thick finger-tips. The Start screen and programs always filled the entire screen. Windows 11 dumps Tablet mode because Windows 11 is automatically finger-friendly.
Live Tiles on the Start menu: In Windows 10, the Start menu sometimes resembled a moving marquee, with animated tiles that changed to show different things. Windows 11 ditches the animated tiles in favor of a simpler menu that merely shows static icons. You can no longer create folders on the Start menu for storing related items, either.
Internet Explorer: Microsoft's elderly browser, Internet Explorer, disappeared completely from Windows 11, replaced by the new browser, Microsoft Edge.
Cortana: Microsoft fired its little robot that tried to help you work but mostly got in the way. You can still launch the Cortana app from the Start menu, should you miss it, but otherwise, Cortana won't bother you.
Paint 3D: Paint 3D let you design three dimensional models for 3D printers to create using layers of plastic. Few people used it, and even fewer will notice that it's missing.
Skype: Microsoft paid billions for Skype, an app for making inexpensive (or free) phone calls using the internet. But Microsoft let the app languish. Now, it's replaced by Teams, a program for creating online meetings. Microsoft added the chat portion of Teams into Windows 11 to compete with Zoom, which zoomed in popularity during the pandemic.
OneNote: Windows 10 came with OneNote, an app for taking notes much like a virtual school notebook. OneNote vanished from Windows 11, but compulsive note-takers like me can still install it for free from the Microsoft Store.
Short for Trusted Platform Module, TPM is a computer chip that places an extra layer of security over your PC. However, most older PCs lack a TPM chip, meaning they can't be upgraded to Windows 11. Some older PCs come with TPM chips, but the manufacturer left them turned off. To see if your PC has a compatible TPM chip and whether it can be turned on, download Microsoft's PC Health Check app, available at https://aka.ms/GetPCHealthCheckApp.
About This Article
This article is from the book:
This article can be found in the category: