How to Get Directions with the Amazon Fire Phone Maps App
How to Get Directions with the Amazon Fire Phone Maps App
One command that's associated with locations found in the Maps app on your is the one for getting directions. On your Fire phone, just look for the Directions icon. That's your key to getting where you want to go. Here's how it works:
1

Touch the Directions icon in a location's card.

Options for that location will appear.
2

Choose a method of transportation.

The available options are car, public transportation, and on-foot.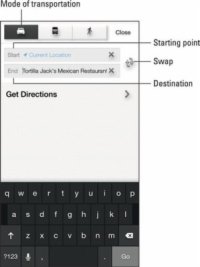 3

Set a starting point.

Your current location is shown automatically. You can tap the X icon to clear that field and type another address.

The destination location is determined by the card you tapped in Step 1. Even so, you can tap that field to choose another destination.
4

Ensure that the starting location and destination are what you want.

If they're backward, touch the Swap icon.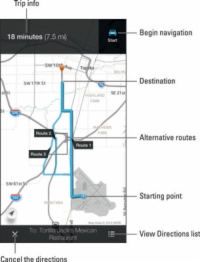 5

Tap the text Get Directions.

One or more routes are listed on the screen, highlighted in blue.

Here are some things you can do while viewing the route in the Maps app:

Touch one of the routes to select a new route. The travel time and distance change to reflect the new route.

Tap the Direction List icon to view the turn-by-turn directions.

Touch the Start icon to begin navigation. (This icon is labeled Preview if your current location is not the starting location for the route displayed.)

The Maps app alerts you to any toll roads on the specified route. As you travel you can choose alternative, non-toll routes, if they're available. You're prompted to switch routes during navigation.