iPhones
iPhones took the world by storm in 2007 and they haven't stopped wow-ing the pants off us yet. We've got handy articles to help you get the most out of this iconic smartphone.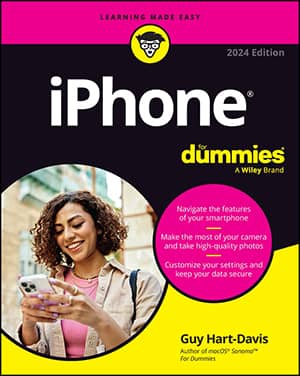 iPhones
iPhone For Dummies
The smart guide to your smartphone — updated for the latest iOS and iPhone releases Fully updated to cover the newest features of iOS and the latest iPhone models, iPhone For Dummies, 2024 Edition helps you keep in touch with family and friends, take pictures, play games, follow the news, stream music and video, get a little work done, and just about everything else. This user-friendly guide walks you through the basics of calling, texting, FaceTiming, and discovering all the cool things your iPhone can do. You'll benefit from the insight of a longtime Apple expert on how to make the most of your new (or old) iPhone and its features. These wildly popular devices get more useful all the time. Find out what's in store for you with Apple's latest releases — even if you've never owned an iPhone before. With iPhone For Dummies, 2024 Edition: Discover the features of the latest iOS release and iPhone models Customize your settings and keep your phone secure Make the most of your camera and shoot high-quality videos Find little-known utilities and apps that will make your life easier iPhone For Dummies, 2024 Edition is the one-stop-shop for information on getting the most out of your new iPhone. New and inexperienced iPhone users will love this book.
Explore Book
Buy On Amazon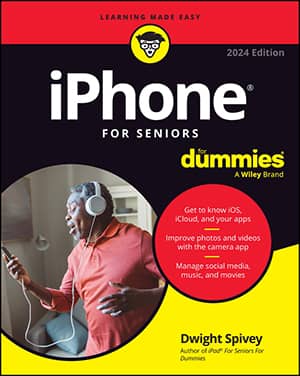 iPhones
iPhone for Seniors For Dummies
The perfect guide for staying connected with your new iPhone iPhone for Seniors For Dummies, 2024 Edition is a no-nonsense manual for making the most of the latest iPhone models. You'll learn how to navigate your device's software and customize its settings for your needs. Plow through the basics like making calls, sending text messages, checking your e-mail, using FaceTime, tracking your health, and beyond. The step-by-step instructions are right here. With the help of this clear and accessible Dummies guide, you'll set up your phone and discover all the neat features it has to offer. Start taking great photos with the iPhone's legendary camera, check the weather, download games and other apps. You'll also learn how to keep your phone safe, secure, and up to date — no worries. With this guide: Choose the right iPhone for you, set up your phone, and start calling and texting Learn to make video calls with Facetime and share photos and videos on social media Discover apps and utilities that can make your life easier Play games, browse the internet, and watch movies on your iPhone With larger print, clear figures, and senior-focused content, this book is perfect for iPhone users who just need the basics explained without the fluff.
Explore Book
Buy On Amazon
iPhones
iPhone Photography For Dummies
Create beautiful iPhone photos with the techniques found in this book iPhone Photography For Dummies, shares the expertise of photography workshop instructor Mark Hemmings as he shows readers how to get stunning images using their favorite iPhone. By implementing Hemmings' simple techniques, you'll get professional-looking results in a fraction of the time you'd expect. You'll learn to: Adjust camera settings Create majestic landscape images Capture exciting action shots Shoot beautiful portraits Select an editing app Share and organize images Shoot photos comfortably while on the go Perfect for those who want to take breathtaking photos without investing in a top-of-the-line camera, iPhone Photography For Dummies takes the guesswork and luck out of creating beautiful imagery. It shows people without formal training in photography how to make meaningful and noticeable improvements in their shooting technique using either the latest iPhone model or older versions of the device.
Explore Book
Buy On Amazon