General Cell Phones
They don't call 'em smartphones for nothing. These little devices pack an old space shuttle's worth of computing power into one handy rectangle. Learn how to wring every last drop of awesome out of them.
General Cell Phones
Books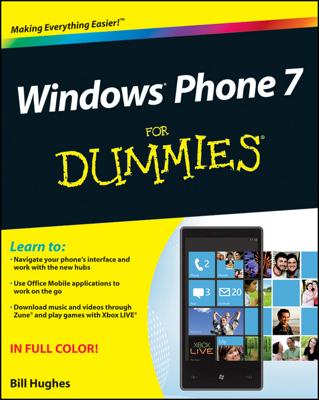 General Cell Phones
Windows Phone 7 For Dummies
Unleash the full power of your Windows Phone 7! Windows Phone 7 is the new and improved mobile platform for all Windows smartphones. The new platform has been completely rebuilt from the ground up and this guide walks you through everything that's new, from the look and feel to the underlying code to the revamped home screen and user interface experience. Placing special focus on the features and functionality that is shared across all Windows Phone 7 series models, this fun and friendly book covers a wide range of how-to topics on everything from making simple calls to using your handheld device as a mobile computer. Explores the exciting new Windows Phone 7 and the completely revamped platform that will revolutionize the way you experience mobile phone use Shows you how to personalize your interface and exchange and sync information with your Windows PC Covers how to download, install, and use Mobile Office applications Demonstrates creating, downloading, exchanging, and sharing digital media, such as photos, videos, sound, and music files with other mobile device and PC users Windows Phone 7 For Dummies takes your Windows Phone 7 experience to a whole new level!
Explore Book
Buy On Amazon