How to Upgrade the Software for iTunes, an iPod, and an iPhone
How to Upgrade the Software for iTunes, an iPod, and an iPhone
The best way to stay updated with the latest version of iTunes and iPod software is to download upgrades over the Internet and install them. Apple updates iTunes and the built-in iPod software regularly to add new features and fix bugs. To install the iTunes upgrade, follow these steps:
1

Choose Check for Updates from the iTunes Edit menu on a Windows PC, or Software Update from the iTunes menu on a Mac.

iTunes automatically accesses the Internet and checks for an update. If a new version is available, a dialog box appears, asking whether you want to download it.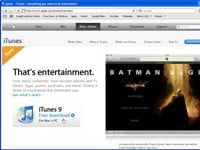 2

If iTunes displays a dialog box with the message that a new version of iTunes is available and asks whether you would like to download it now, click Yes.

On a Windows PC: iTunes launches your Web browser and takes you right to the iTunes download page.

On a Mac: iTunes automatically downloads and installs the upgrade. When you start iTunes after installing an upgrade, you must click the option to agree to Apple's License Agreement. iTunes then starts as usual.
3

After installing the iTunes upgrade, connect your iPod or iPhone to your computer as you normally do.

iTunes automatically detects new iPod or iPhone software if it is available.
4

Click the Update button to install the software in your iPod or iPhone.

iTunes displays information about the new iPod or iPhone software.