Robots
No, they're probably not coming to destroy humanity. But if you need help setting up a new component or installing some new software in your friendly, neighborhood robot, these articles will do the trick.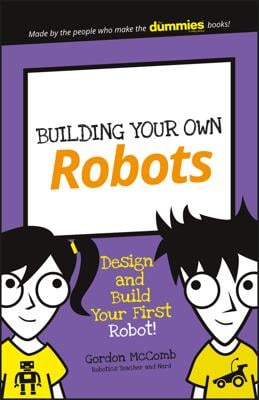 Robots
Building Your Own Robots
Fun robotics projects that teach kids to make, hack, and learn! There's no better way for kids to learn about the world around them than to test how things work. Building Your Own Robots presents fun robotics projects that children aged 7 – 11 can complete with common household items and old toys. The projects introduce core robotics concepts while keeping tasks simple and easy to follow, and the vivid, full-color graphics keep your kid's eyes on the page as they work through the projects. Brought to you by the trusted For Dummies brand, this kid-focused book offers your child a fun and easy way to start learning big topics! They'll gain confidence as they design and build a self-propelled vehicle, hack an old remote control car to create a motorized robot, and use simple commands to build and program a virtual robot—all while working on their own and enjoying a sense of accomplishment! Offers a kid-friendly design that is heavy on eye-popping graphics Focuses on basic projects that set your child on the road to further exploration Boasts a small, full-color, accessible package that instills confidence in the reader Introduces basic robotics concepts to kids in a language they can understand If your youngster loves to tinker, they'll have a whole lot of fun while developing their creative play with the help of Building Your Own Robots.
Explore Book
Buy On Amazon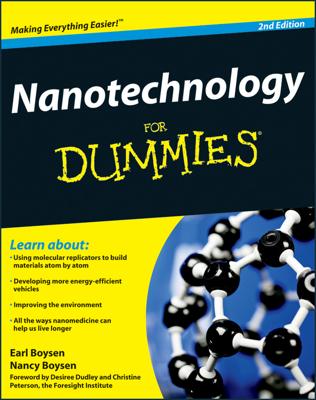 Robots
Nanotechnology For Dummies
The bestselling introductory guide on nanotechnology?now revised and updated The world of nanotechnology is ever changing and evolving; this fun and friendly guide demystifies the topic for anyone interested in how molecule-sized machines and processes affect our everyday lives. The authors begin with explaining the background of nanotechnology and then examine industries that are affected by this technology. Aiming to educate and simultaneously dispel common myths, the book explores the many nanotechnology-enabled consumer products available on the market today, ranging from socks to face lotion to jet skis to floor cleaners, to name a few. Serves as a fun and friendly introduction to the fascinating topic of nanotechnology Discusses the various issues involving nanotechnology in the areas of environment, medicine, defense, and others Provides real-world examples of everyday nanotechnology use such as floor cleaners, flash memory drives, face lotion, computer processors, and more Written in the accessible, humorous For Dummies style, Nanotechnology For Dummies, 2nd Edition provides an easy-to-understand overview of nanotechnology and its real-world implementation.
Explore Book
Buy On Amazon
Robots
Robot Building For Dummies
Always wanted to build a robot but didn't know where to start? This user-friendly guide shows what robots can do, how they work, and more Ready to enter the world of robotics? Then this book is for you! If you don't know much about electronics, high-tech tools, or computer programming, that's okay. If you can work with some basic tools (such as pliers, a screwdriver, and a cutting knife), have a computer and know your way around it, and want to make a robot, you're in the right place. Robot Building For Dummies walks you through building your very own little metal assistant from a kit, dressing it up, giving it a brain, programming it to do things, and even making it talk. In this hands-on guide that's illustrated with step-by-step instructions and written in plain English, you get an overview of robotics and the tools, technology, and skills you need to become a robot builder. You'll discover The various approaches to robot building, such as building from scratch or starting with a kit The mechanical parts of a robot and how they fit together The components of an efficient workspace and how to set one up Programming basics you need to enter and download commands into your robot How to add a controller, which lets you download software programs to your robot Using an editor program to connect to your robot The importance of preparing the parts of a robot kit and then assembling the chassis, wheels, and sensor whiskers The fun of making your robot functional by adding motion detection, light sensors, and more How to troubleshoot common problems and fix them to save your robot's life Along the way, you'll gather tidbits about robot history, enthusiasts' groups, a list of parts suppliers, and all-important safety tips. As an added bonus, Robot Building For Dummies comes with rebates for your robot building kit – no more waiting, grab your copy and start building your robot today.
Explore Book
Buy On Amazon