How to Play Podcasts on Your iPod
How to Play Podcasts on Your iPod
You can play podcasts on your iPod. Podcasts, naturally, have their own menu on an iPod. Podcasts are organized by podcast name (which is like an album name), and podcast episodes are listed within each podcast in the order that they were released (by date).
1

Choose Music from the iPod main menu.

Or you can choose iPod from the iPhone menu.
2

Choose Podcasts from the iPod classic or iPod nano Music menu. On an iPhone or iPod touch, touch the More button and then touch Podcasts.

The More button appears in the lower-right corner of the display on an iPhone or iPod touch when selecting music. After touching the More button, more choices appear, including the Podcasts choice.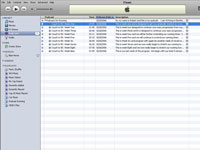 3

Choose a podcast from the Podcasts menu that appears.

Podcast names are listed in alphabetical order by first word. Note: Any leading The is recognized, which is why The Flying Other Brothers-Music Podcast appears after the Rockument podcast. Scroll the Podcasts menu until the podcast name is highlighted, and then press the Select button.
4

Choose and play an episode from the podcast's menu.

The podcast's menu of episodes appears. Scroll the episode list until the episode name you want is highlighted; then press the Select button to play the episode on an iPod classic or iPod nano (or older model), or touch the episode title on an iPod touch or iPhone.