How to Play Podcasts in iTunes
How to Play Podcasts in iTunes
iTunes allows you to play podcasts. You can add podcast episodes to your iTunes library by subscribing to them in the iTunes Store or on any Web site that offers a podcast.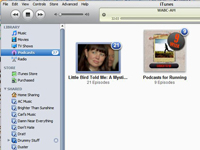 1

Select the Podcasts option in the Library Section of the Source pane and choose List or Cover Flow view.

The podcasts appear in the Song List pane.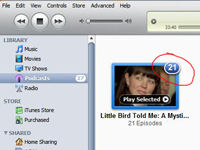 2

Select the podcast in List view or in the list under the Cover Flow view, and then click the triangle to see its episodes.

The triangle rotates, and a list of episodes appears beneath the podcast.