How to Download iTunes LP Albums
How to Download iTunes LP Albums
The iTunes Store offers albums with an immersive visual experience (referred to as iTunes LPs). iTunes makes full use of these LP albums, which include liner notes, pictures, video, animation, and lyrics. Some albums come with the electronic equivalent of a complete jewel case booklet that you can print yourself.
1

Open iTunes on your computer and click the iTunes Store link in the right panel.

The iTunes Store homepage opens.
2

Select the Music tab in the black bar above the List pane.

You can also pick a music genre by clicking the down-arrow button that appears next to the Music tab when you click it. iTunes displays panels of advertisements and specials for music lovers, including iTunes LP albums that include liner notes, lyrics, videos, and other features.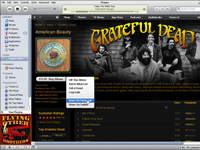 3

Select an advertisement for an iTunes LP album.

The album's page appears, with a description and other links.
4

Click the Buy Album button.

A pop-up window appears, asking you to sign in.
5

Enter your username (if it doesn't automatically appear) and password and click Buy.

The album is downloaded to your iTunes.