How to Burn a Disc in iTunes
How to Burn a Disc in iTunes
Copying files to a disc is referred to as burning, and you can burn music to a disc by using iTunes. If you burn it as an audio disc, you can play it in any CD or DVD player. You can also burn an MP3 disc, which can hold a lot more music but can only be read by another computer.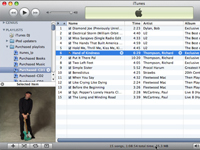 1

Select the playlist you want to put on your disc and then click the Burn Disc button.

The Burn Disc button appears in the lower-right corner of the iTunes window whenever you select a playlist. After clicking Burn Disc, the Burn Settings dialog appears.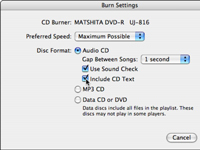 2

Select options in the Burn Settings dialog and click the Burn button.

You can specify your preferred speed, disc format, and more.
3

Insert a blank disc (label side up).

iTunes immediately checks the media and begins the burn process, displaying a progress bar and the names of the songs burning to the disc. When iTunes finishes burning the disc, iTunes chimes.
4

Eject the newly burned disc from your drive.

Test the disc to make sure it plays properly.