How to Add Audio Books to iTunes
How to Add Audio Books to iTunes
If you enjoy listening to audio books, you can add them to iTunes. That way, besides being able to listen to your audio books over your computer with iTunes, you can transfer the files to your iPod or iPhone and take them on the road.
Audio books can be even more entertaining than movies and certainly easier to consume while driving or walking:
2

Click an advertisement, thumbnail, or title, or click the circled arrow next to the title in a list of titles.

The specific audio book's page opens.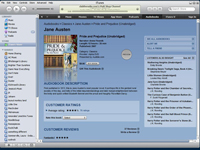 3

Click the Preview button to preview the audio book.

Use the Play/Pause button to pause and resume playback.
4

Click the Buy Book button to purchase the audio book.

A dialog appears, asking you to input your account information.
5

Enter your Apple ID and password in the text boxes, and then click Buy.

That book is automatically added to your iTunes library.