How to Buy an HDTV (High-Definition Television)
How to Buy an HDTV (High-Definition Television)
Before choosing a television, you should understand your personal preferences for quality in-home entertainment. High-definition televisions, also known as Hi-Def or HDTVs, are categorized into three basic groups: LCD (liquid crystal display), LED (light emitting diode), and plasma.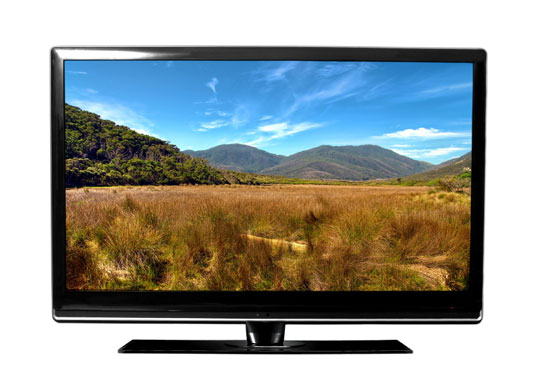 Credit: ©iStockphoto.com/goglik83
These three categories can be broken down into five subgroups:
3D

4K

HD Display

Smart TVs

Standard HDTVs
Obviously the more features, higher resolution, and screen size the television has to offer, the more your setup will end up costing you in the long run.
Differences between LCD, LED, and plasma
LCD televisions have a more muted picture quality than that of a LED or plasma. Often the television is equipped with a matte finished screen as opposed to high gloss plastic or glass and minus three times the shelf life of its HD CRT/Projector predecessors.
These televisions can last five to eight years if powered on daily, and start at a very low price point. This particular type of HDTV is becoming more and more difficult to purchase in a retail setting due to the introduction of LED technology and the rollout of LCD/LED hybrids.
LED televisions are becoming the system standard for flat-panel HDTVs due to the cost effectiveness and extended shelf life of LED technology — 10+ years. These devices are lightweight, have a slim form factor and high-gloss plastic screen.
The brightness of an LED HDTV is comparable to that of a bulky plasma television providing plasma like vividness at one-fourth the weight and cost. These televisions are perfect for do-it-yourself wall mounting.
Plasma can offer some of the most vivid picture quality available, but also they are heavy, and have a short life expectancy, lasting about two or three years.
Plasma is a pressurized gas sandwiched between two layers of glass to create the picture you see, and it not only attributes to the extra weight but also under certain conditions the TV can crack, pop, or even explode! The gas inside the television can also fade over time, giving the device a picture quality much like that of an LCD, requiring either maintenance or even early replacement.
Plasma televisions are going the way of the VHS tape/DVD. Most plasma televisions have rolled off the production line because of the advent of 4K. You might be able to snag a great deal but don't forget plasma has a short shelf-life and be prepared to purchase an extended warranty.
3D HDTVs
3D televisions were the "rave" the last few years but this product falls short due to a lack of 3D OTA (over-the-air) programing variety and 3D streaming from mainstream companies such as Netflix and Hulu+ and the need to purchase 3D-capable devices and enough fashionable 3D-glasses for the whole family.
You also can run up a pretty hefty tab quite quickly. However, if you watch TV alone, the need for extra accessories is minimal, and if you are a video game enthusiast nothing compares to 3D gaming.
4K HDTVs
4K HDTVs have a picture four times the resolution than that of a standard HDTV and refresh rate to match. A picture so clear it is almost like a 3D TV without the need for wearing 3D-glasses. The downfall for this is a total lack of 4K content.
OTA is available but only at standard 1080i/1080p or lower; the same for major streaming providers, and 3D-capable 4K devices. Not only is the lack of content disappointing, but a special 4K player must be purchased to deliver true 4K-quality content at a premium price.
As time goes on more content will become available and the price of these televisions will drop. For the time being though, these televisions are considered to be high-end, so expect to pay high-end prices.
HD displays
On the opposite end of the spectrum, HD displays are considered to be low-end due to missing components such as an internal digital tuner. These displays have a low price base. However, some displays have 3D support, and if you have cable or satellite, an internal tuner is not needed to enjoy your programing.
Often this television option is used in children's bedrooms for video game consoles and other devices.
Just keep in mind no over-the-air programing will work on these televisions unless a separate digital converter box is purchased, and most of these boxes only work in standard definition 480i/480p, resulting in a blurry picture or a picture that doesn't fit the whole screen.
Smart HDTVs
Smart TVs are becoming more and more popular since big streaming companies such as Pandora, Vudu, and other providers offer a more affordable way to deliver a large amount of content without the need for expensive cable or satellite packages or setting up an unsightly antenna.
These televisions also come capable of streaming content directly from your in-home network and are reasonably priced, provided you already have a high-speed Internet connection. Also keep in mind the location of your modem and router to determine whether an Ethernet or Wi-Fi connection is needed and make your purchase accordingly. Some smart TVs do not have Wi-Fi!
Standard HDTVs
Standard HDTVs come at the lowest price and offer free digital OTA broadcasts as well as inputs for external video devices like a cable box or Blu-ray player. These types of televisions vary widely due to the influx of off-brand availability, and they start at super low prices. No extras here! These televisions usually don't have any audio outputs and have a limited number of inputs like coax or HDMI.
Personal preference
Now that you have a basic understanding of the types of televisions available on the market today you can narrow down your choices to the TV that suits your needs. Just remember to do your research before making a big purchase and answer these important questions . . .
Can you afford to replace your new TV at the end of its lifecycle?

If not, consider low-end options and an extended warranty provided either by the manufacturer or retailer to ensure repair or replacement if anything happens to go wrong with the new set.

Do you watch TV alone or with friends and family?

If alone, consider a smaller screen size and less inputs/outputs. Also consider 3D options: The cost of accessories will be nominal and you won't be embarrassed wearing those funky glasses.

If you watch with others, make sure the size of the television is comfortable for all viewers in the room to watch and that the screen is multidirectional to provide the best picture from any angle. For 3D options, remember to have enough 3D-glasses for everyone in the room to enjoy.

Do you plan on using the new TV primarily for video games?

If so, consider an HD display as a low-end option and 3D HDTV as a high-end option.

Do you have cable/satellite and not need an internal digital tuner?

If so, consider HD displays. They not only provide the same picture and sound qualities as a traditional HDTV but are quite inexpensive. Most of these devices offer several inputs and are capable of displaying more than just a video game console.

Do you have surround sound and need a TV with audio outputs?

If so, you probably are a stickler for sound quality. Look for a television that sports the Dolby Digital logo to ensure that the device not only has audio outputs but is capable of the audio setup that you desire.

Do you watch TV at night with headphones and need a 9.5 mm audio jack?

If so, this eliminates most standard HDTVs, and you should consider a more robust model. To check for a 9.5 mm jack, go to any retailer that carries the television you want to purchase and look at the back of the floor model.

Do you primarily use your TV for streaming services?

If so, consider a Smart TV. Streaming is built right into the device to eliminate the need for external streaming devices such as a PC, game console, Roku, or other. Also you have less wire clutter!

If not, consider a standard HDTV. They are not only set at a lower price point, but the built-in tuner is usually higher quality and will pick up more OTA channels regardless of antenna placement.

How many inputs will you need for all your connectable devices?