Salesforce
If you need a hand with how to use Salesforce to its fullest, just grab one of the articles below.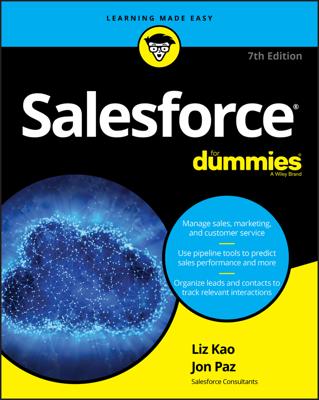 Salesforce
Salesforce For Dummies
Get up to lightning speed with this fully updated, bestselling guide to using Salesforce.com! Salesforce.com For Dummies, 7th Edition gives you an edge in building relationships and managing your company's sales, marketing, customer service, and support operations. You'll learn how to maximize the new user interface to organize contacts, schedule business appointments, use forecasting tools to predict upcoming sales, make accurate projects based on past performance, and more. Written by Salesforce.com insiders with years of expertise in CRM services, this new edition covers the latest enhancements to Salesforce.com, the world's most popular customer relationship management software. You'll find out how to determine the right configuration to suit your business needs, and how to use apps, widgets, and tools to personalize your system. Then, you'll explore prospecting leads, managing accounts and partners, developing contacts, tracking products, calculating forecasts, and utilizing service and support. Customize the new user interface with apps, widgets, and tools Prospect leads, drive sales, and provide outstanding customer service Manage contacts, identify opportunities, and analyze your results Collaborate with colleagues using Chatter More than 150,000 companies worldwide use Salesforce.com as their CRM solution—if you're a new or existing user looking to maximize the potential of the new UI, this book has everything you need.
Explore Book
Buy On Amazon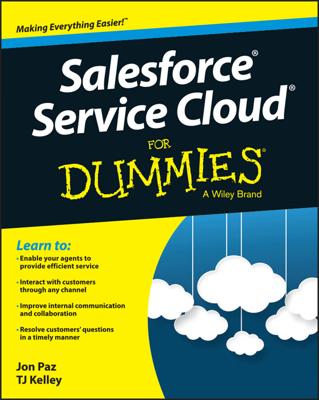 Salesforce
Salesforce Service Cloud For Dummies
Learn how to provide top-grade customer service anywhere, anytime, with Salesforce Service Cloud. Salesforce Service Cloud empowers your service organization to interact with customers through any channel and provide an individualized experience that will be worth sharing — for your customers and for your company. Salesforce Service Cloud For Dummies is one the first books to focus specifically on Salesforce Service Cloud software. With it, you'll discover how to set up a sophisticated support center for your business in a matter of a few hours. Whether you're a service executive, manager, support agent, or system administrator, you will discover how to maximize usage of Service Cloud through best practices and step-by-step guidelines. This book will help your customer service departments gain a holistic view of the customers they serve, and provide your customers with meaningful, efficient interactions. This book: Examines how to enable your agents to provide efficient service Discusses how to interact with customers through any channel Offers insights on improving internal communication and collaboration Shows how to resolve customer's questions in a timely manner Take advantage of this opportunity to be heard above your competition with the help of Salesforce Service Cloud For Dummies.
Explore Book
Buy On Amazon