Congratulations! You have used your home recording studio and produced a final product. Now you have to work on getting people interested in buying your music. You've just gone from being a musician-composer-engineer-producer to being all those plus a record-company-owner-businessperson. (Exactly how hyphenated can a person get, anyway?)

Your friends and some acquaintances will probably buy a few copies, but after you've sold copies to all of them, you need to promote your music to the broader world. This can be tricky. After all, you're now competing with the big boys and—face it—you don't have nearly the resources they do. Traditional channels of distribution and marketing are pretty much out of the question for you. So, to succeed in selling your music, you need to try some alternative approaches.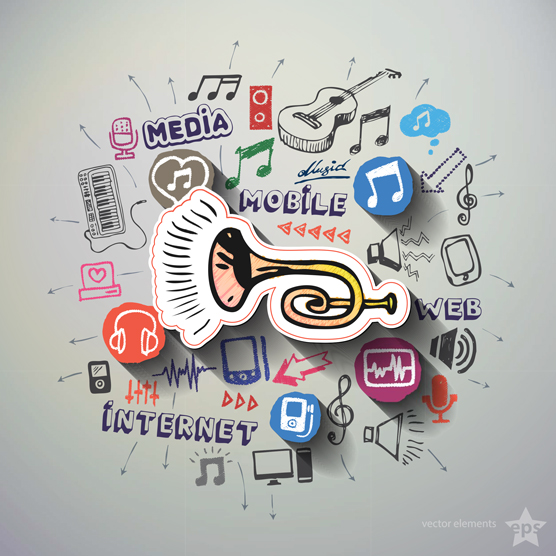 © Evgeny Yatskov / Shutterstock.com
Market yourself
You can create a nice niche for yourself and your music. All it takes is a little imagination and a lot of hard work. Here are a few ideas that have worked for enterprising, independent artists:
Take yourself seriously. Take the job of promoting and selling your music seriously—treat it as a business. Getting people to notice and buy your music is a lot of work, but it doesn't have to be a drag (if it is, you're better off getting someone else to do it for you).
Get organized. Get your new business off on the right foot by developing a habit of keeping track of your sales and developing a contact list. One of the best investments that you can make is to get a contact management database (Act! is a good one for Windows, and Contacts is serviceable for Mac users) to keep track of promotion contacts (newspapers, radio stations, and clubs), CD and download sales, and fans. Also, do yourself a big favor and keep meticulous records of your income and expenses; you'll be grateful that you did when tax time comes.
Create a mailing list. This is one of the most cost-effective and powerful ways that you can start to develop a following. Make a signup sheet for your mailing list available at every public appearance. (Ask people to include not only their postal mail addresses but also their email addresses.) Then enter those names into your database. You can then either send out snail mailings or email notices whenever you play or do anything worth mentioning.
Get out and be seen. This one is pretty straightforward. Get out in the world and let people know about your music. This can mean playing gigs or talking about your music.
Look beyond the music store. It's nearly impossible to compete with the labels—indies and majors alike—in the music store. Unless you live in a small town or know of a music shop that has a section devoted to local bands and can sell your CDs, you need to think of other places to put your music. For example, another friend of mine has his CD at quite a few of the local businesses in his neighborhood around the holidays. Every place, from the local pack-and-ship to the video store, has a countertop display with his CD. He creates a small poster that fits on the counter describing him and his music. He sells quite a few CDs and gets a handful of more gigs each year this way.
Capitalize on your style. Another one of my friends composes folksy, New Age music, and he managed to get his CDs into a handful of New Age gift shops. He often puts them in the stores on consignment and checks each store once a week to refill the countertop display and collect money that the store took in (minus the store's cut, of course). Going into the stores every week helps him to develop a relationship with the store owners, many of whom have arranged for him to do performances in their stores, increasing exposure and sales.
Try something different. Years ago, I teamed up with a local author and played at her book signings. She read a passage from her book, and then I played for a few minutes. I always ended up selling a few dozen CDs at these events.
Don't be stingy. Give away your CD. Count on giving away about 10 percent to 15 percent of the CDs you print. These can be for reviews, to try to get gigs, or for any purpose that may spread the word about your music. Giving out your CD as a promotional tool is an inexpensive way to let people know what you're doing.
Set up your own music website
No matter what else you do, you need to have your own website. A website is your calling card—a place where you can showcase yourself and your music. With your own site, you can provide a lot more information for visitors to read. You can also offer more products that may make you more money than your CDs—T-shirts, for instance.

Having your own website is not without challenges. For example, you have to design and maintain the site, which can take a lot of time. You also have to pay for things like hosting (that is, a service that will host your site files on its servers so that people who visit your web address can see your site). If you intend to sell products on your site, you need to provide online ordering, which you can do with simple options like adding a Checkout button via PayPal or Google (which charge a small fee for each sale) or by setting up an account with a payment processing company, such as Stripe or Square. In all, having a website can be time-consuming and costs money, so be prepared to do a fair amount of work if you really plan on making money from your website.
Musician-friendly hosting services
Some hosting services make it easy to create a website for you or your band and allow you to offer downloads or streams of your music, CDs, and other merchandise. All of the following sites are geared toward musicians. The one you choose will likely depend on the fit for you or your band. Here are some options:
Each of these sites offers slightly different features for the money. Take a close look at their plans and keep in mind that, while all offer free trials, you're unlikely to move from one host site to another, so choose the site that you feel best about and whose features most closely match your needs.
Design your site
Your first step in getting a website up and running is designing it. When you design your website, keep the following points in mind:
Make your site easy to navigate. Make sure that your visitors know where they are on your site at all times. It's often a good idea to have a menu bar on each page so that they can at least return to the home page without having to search for it.
Make sure your site is mobile responsive. Smartphones and tablet computers are an important segment of online users, and having a site that utilizes responsive web design means that your site will look as good on a small screen as it does on a large one.
Include an email newsletter opt-in form. Offer something of value, such as some music, for free to get your fans on your list. Then use your newsletter to develop a relationship with them. The more you engage with your fans, the more music and merch you will sell. You need an email service provider to do this.
Make ordering your CD (or other stuff) easy. Put a Buy My CD button or link on every page. Also, consider including upsells, such as T-shirts or behind-the-scenes videos, in your shopping cart sequence.
Double-check all of your links. Nothing is worse for a web surfer than clicking on links that don't work. If you have links on your site, double-check that each one works. And if you have links to other people's sites, check the links occasionally to make sure that the page you're linking to still exists.
Test your site. Before you sign off on your site design, check it from a slow connection and multiple devices if you can (or have your web developer do this for you). You instantly get a sense of whether your site's download time is speedy. If it's slow to load or confusing to navigate, keep working on it until it works. You may also want to check your site using different internet browsers and screen resolutions to make sure that your site still looks good.
Make your site your browser's home page. This ensures that you know if your site is down or having issues.
Put your music on a music host site
A music host site is a website that allows you to add your music to its list of available music downloads. Putting your MP3s on a host site can give you exposure that you wouldn't otherwise be able to get. You can direct people to the site to listen to your music and also benefit from traffic that the site itself, other musicians, and the site's fans generate. For some of the larger sites, that can be a lot of potential listeners. Although MP3 host sites are constantly changing, a few have managed to hang around for a while:
Bandcamp: Bandcamp lets you offer downloadable music, physical CDs, and even merchandise like T-shirts. A basic plan is free (pro plan is $10 per month) to offer your music or merch, though it does take a cut of your sales. Bandcamp's cut is 15 percent for digital sales and 10 percent for CDs or merchandise.
CD Baby: CD Baby, aside from letting you sell CDs and letting you sell your music digitally, also offers a place for you to put up your website.
Last.fm: Last.fm is a streaming radio service with a dynamic community. You can put your music on the site plus offer links to your CDs and downloads. You can also sign up for a plan that pays you for the streaming, but it won't amount to much unless you have a ton of plays (check out the Terms and Conditions for details).
ReverbNation: ReverbNation is kind of a one-stop shop for releasing and promoting your music. It offers website hosting, digital distribution, email contact management, newsletter delivery, and more. It has a free plan that lets you upload and offer your music for download, but if you want to monetize it, you'll need to pay some money. The price varies depending on what services you want to use, but its basic full-service plan runs $20 per month.
Soundcloud: Soundcloud lets you upload your music and make it available as a download or online stream. It's free and it's popular, so it's a worthwhile place to add your music. Soundcloud is very strict about ensuring no one is uploading material that he or she doesn't own the copyright to, which is a good thing for musicians.
Engage in social media networking
People are atwitter (sorry, I can't help myself) about social networking as a way to promote themselves. I'm personally still a bit cool on the actual sales that can be made using Twitter, Facebook, and the other social networking sites, but I won't deny that these sites generate a lot of activity, and activity is always a good thing. So, I'm not really going out on a limb to suggest that you join the social networking world, too. It can be a great way to connect with your fans (and possibly attract new ones).

Musicians are also using general social networking sites as well. Here is a list of the most popular ones (as of mid-2020 anyway — chances are this list will be out of date before too long):
Facebook
Instagram
TikTok
Twitter
YouTube
Offer free downloads
Offering a freebie can be a good way to get people interested in your music and a way to turn people into fans. Online promotion of your music almost requires you to make downloads available to your potential fans. You can talk about your music all you want, but what people want is to hear your music. The purpose of the free download is to get your listener excited enough about your music that he buys your music or comes to see your show.

Turning a freebie listener into a buyer isn't that difficult. My company offers a variety of free download demos, and we have found that more than 10 percent of the people who take a free demo end up buying a CD, MP3 download, or program from us. This is an inexpensive way for us to get new customers and a very good return on investment. On top of that, by allowing our customers to try our recording first, we receive fewer requests for a refund (contrary to what most music creators do, we offer a money-back guarantee on all our music and programs). So, you won't be surprised to hear me suggest that you should offer free demos/downloads of your music.

Give people a taste of your music and sell an upgrade — other tracks, physical CDs, vinyl records, boxed sets, CD-and-T-shirt packages, tickets to a live concert stream — anything that turns a casual listener into a fan. There are some good models out there for monetizing your music if you look around.
Sell your music digitally
Digital delivery of your music will be the main source of revenue. Sure, you'll sell a few CDs at your shows and maybe a couple more through a local store or one of the online music sites, but fewer and fewer listeners own CD players and many more prefer listening on a phone or tablet and don't want to hassle with importing a CD into their device.

Aside from being the format of choice for listeners, digital music files is a better choice for musicians because you don't need to invest a ton of money in a garage full of CDs that you'll likely not sell.

There are two forms of digital distribution:
Downloads: Downloads allow your listeners to own and load the digital file on to a device so they can listen anytime, forever (or until they lose the file). You get paid once for this download, no matter how many times your buyer listens. You can sell a download directly to your listener, but most musicians will make more sales by putting their downloads on other sites, such as iTunes or Amazon.
Streaming: Streaming delivers your music to your listener without downloading it on her device. You get paid every time your song is listened to. It's a much smaller fee than you get for a download, but you can end up with a lot more in the long run. Unless you can build an infrastructure and fanbase to support serving the music yourself, you'll need to distribute through existing sites. This is not a problem because there are a ton of them.
Regardless of which digital distribution method you want (choose both), and channels you want to be on (Spotify, Apple Music, Amazon, Google, and others — the list is long), you'll need a distributor, also called an aggregator. Following is a list of popular music aggregators that can get your music on most, if not all, of the most common music sites:
AWAL: AWAL doesn't charge an upfront fee for its distribution services, but it does take 15 percent of your sales. Depending on how much music you sell, that can add up to much more than you'll pay through some of the other services.
CD Baby: As an aggregator, CD Baby charges a one-time fee for each album ($35) or single ($9.95) you want them to distribute your music beyond their site (you can get a free account and sell on their site for a 15 percent commission). They also take a 9 percent fee on all your digital sales.
Distrokid: Distrokid also charges an annual fee for distributing your music and doesn't take a percentage of your sales. Distrokid also offer other services for distribution that can add to your cost.
Ditto: Ditto charges $19 per year for one artist and no commission on sales. You can pay more for some other services, such as pre-releasing your music.
TuneCore: TuneCore charges $50 per year for each album and $10 per year for each single you upload. Like Ditto and Distrokid, TuneCore doesn't take a commission on sales and passes on 100 percent of your revenue.
This is a very short list of music distributors. Look around for other places to sell your digitally formatted music. There are a ton of them — and more showing up every day.
License your music
Licensing (also called "sync" licensing) gets you paid for your music and gives you exposure to audiences that may not otherwise find your music. You can license your music to film, TV, commercials, and a host of other outlets—dance videos and shows, conferences, and other unexpected places.

It used to be that you got lucky and someone called asking to license your music (this is how all my licensing happened), but nowadays, there are services that offer listings of libraries or producers looking for music. Here are three worth checking out:
Audiosocket: Audiosocket vets the music that it offers its buyers but doesn't charge its artists to list their music. So, if you're interested in offering your music through Audiosocket, complete an application and a few songs. If they accept your music and sell any, they take a 50 percent cut in the placement fee and 50 percent of the publishing royalties.
Broadjam: Broadjam helps you submit your music to publishers. It's also a music hosting and download site. Membership starts at about $10 per month.
Taxi: Taxi has been around a long time and has a very active member community, as well as a yearly "road rally" conference to help you get the most out of the service. Membership will cost you $300 plus a small fee for each submission, but for all they offer, this can be a bargain if you work to get the most out of the service. They don't take a cut of the money you make on placements for royalties.
Podcasting
Podcasting is another way to offer audio online. Typically, podcasts are media feeds that your visitors can subscribe to and get updates automatically as they're published. If you regularly update your music or if you want to have an audio blog (or video blog) your fans can listen to (or watch), this can be a great way to keep them involved in your music.

The process of creating a podcast starts with recording the content and then putting it in an MP3 format (if you're doing audio). So, you can create audio content easily. Next, you need to host it or have a podcasting site host it for you. This process can get pretty complicated, so check out Podcasting For Dummies by Tee Morris and Chuck Tomasi (Wiley). You can also check out these sites to learn more about podcasting:
Apple podcast page: This page on the Apple website contains tons of information on creating a podcast and publishing it. This is a good place to start.
Podcasting Tools: This site has information, links, and tools for creating a podcast. This is a good place to find quality information.
If you're ready to get started podcasting, here are a few sites worth looking into:
Hipcast: Hipcast is an easy-to-use site that lets you create and publish your audio or video blogs. This site offers a seven-day free trial period, with plans starting at $5 per month. You don't find a lot of information on this site about podcasting, but if you're ready to give it a try, this is a good inexpensive option.
Libsyn: Libsyn offers plans starting at $5 per month and, for an added cost, offers Apple iOS and Android apps for mobile listeners.
PodHoster: PodHoster, as the name states, hosts podcasts. With this service, you record your audio and PodHoster hosts it. This is a good option for musicians who record their own music and know the ins and outs of the audio-creation process. PodHoster offers a 30-day free trial, with monthly plans starting at $5.
Sell your CDs
Regardless of whether you have your own site, you can always sell your CDs on the internet through other outlets. An advantage to selling your music through other online stores is that you can capitalize on the traffic that the store generates. A number of online retailers are out there, but the following list gives you the lowdown on some of the major players:
Amazon.com: If you want to sell your physical CD on Amazon.com, all you need is a "retail-ready" package (professional manufacturer with a UPC code on it).
Bandcamp: Bandcamp is a way for you to sell not only your CDs online, but also merchandise such as T-shirts, coffee mugs, and so on. Bandcamp doesn't charge a monthly fee but does take a cut — 15 percent or less, depending on how much you sell and the prices you set.
CD Baby: CD Baby puts your CD on its site for a small setup fee ($35). For this, you get a web page (which the people at CD Baby design) with pictures, bios, MP3s, and streaming audio. The site sells your CD for any price you set, takes $4 from the sale, and gives you the rest. You even receive an email whenever someone buys one of your CDs.
Because the internet is constantly changing and growing, you may find other sites that allow you to sell your music online. Use your favorite search engine to search for the phrase sell your CD. This gives you a ton of other places to consider when selling your CD online.
Promote your music
The whole point of making CDs and putting MP3s of your music on the internet is to promote and sell your music. To do this, you need exposure. As with any promotion technique, there are no hard-and-fast rules except to use your imagination. Experience will be your guide, but here are some ideas to get you started:
Start an email newsletter. An email newsletter is an inexpensive way to keep your music on people's minds. Try to be somewhat consistent in sending it out, but don't just send out the same message on a regular basis. Give your subscribers something. Provide new information in your email, such as a press release about where you're playing next or a link to a new song that you've just uploaded.
Put your website address on everything. People can't come to you if they don't know you exist. So, print your website address on all of your promotional materials, including the CD itself. Also, include your website address on all emails and internet correspondence that you do (as a signature on internet forums if you belong to any, for example).
Check out as many independent musician sites as you can. You not only learn a lot about marketing your music, but you'll also have an opportunity to spread the word about your music.
Stay up to date. Keep track of where you put your music and check back often to make sure everything is working properly. Websites change and go out of business often. Unless you check the site occasionally, you might not know if your music suddenly disappears from there. Also, routinely search for new places to put your music.
Get linked. Try to get folks to link from their sites to your own. Likewise, share the wealth and link to other sites that you like. Cross-promotion can be a good thing and allow you to pool your fan base with another band. This doesn't take away from your sales (after all, you listen to more than one band's CDs, right?). Visitors to your site will appreciate the link and will probably check back to see whether you added any new ones.
Connect with an email newsletter
An email newsletter is an inexpensive way to keep your music on people's minds. Try to send newsletters to your subscribers somewhat consistently, but don't just send out the same message on a regular basis. Give your subscribers new information, such as a press release about where you're playing next or a link to a new song that you've just uploaded.

Don't send your newsletter to anyone who hasn't asked to receive it. This is called spamming, and it's illegal.

To build a subscriber list, encourage people to sign up for your mailing list at your gigs and on your website. Or offer them a free download when they sign up on your website, and put a subscription form on every page. (Check out this website to see this in action.) Always provide an easy way for users to unsubscribe from your list.

If you're serious about sending out an email newsletter, an email service provider (ESP) can collect and manage addresses and send out your messages. The advantages of using an email service provider include ease of use, but most important is that a good ESP will help your messages get to your subscriber. Sending emails directly from your email account can get your messages blocked — and if the email host (such as Gmail or Yahoo!) labels you as spam, they will ban your messages. The rules on this get pretty complicated, and trying to keep up with changes and be compliant is a full-time job.

Your best solution to make sure your messages go through is to use an experienced ESP. Here are a few I recommend:
AWeber: AWeber has been around a long time and has great customer service. You can actually get someone on the phone. In fact, they encourage it. Their plans start at $19 per month (for up to 500 subscribers). You can try AWeber for a month for only a dollar, and they offer excellent email marketing advice (through a newsletter, videos, and blogs).
Constant Contact: This is a popular ESP that is easy to use and offers a 60-day free trial. Their basic (500-subscriber) plan is $15 per month. Plans with more subscribers cost about the same as the other providers I list here. I haven't used Constant Contact, but I have friends who are very happy with this provider.
MailChimp: This ESP is super-easy to use and their data tracking (of clicks and whatnot) is very good. However, they will not get on the phone with you if you have problems. You're stuck with instant chat or email (not the worst thing but kind of annoying if you have a complicated problem). They have a free account option that allows you to try them out and see if you like them. Once you get to a couple thousand subscribers, their cost is about the same as everyone else in this list.
You can find a lot more by doing an internet search using "Email Service Provider" or "email marketing" as your search term.

If you choose a music-centric company to host your website, you may find that your blast email needs are taken care of and you don't need to hire a separate ESP. However, if you end up with a lot of fans, you may find the features offered by a dedicated ESP useful.
About This Article
This article can be found in the category: