To resolve problems with resource assignments in your Project 2016 projects, you have to first figure out where the problems lie by taking a look at a few views that focus on resource assignment.

Resource Usage view, shown in the first figure below, and Resource Graph view, shown in the second figure, are useful in helping you spot overbooked resources. In Resource Usage view, the overbooked resource is shown in red, and the overallocation icon (a little red person in the Indicator column) appears.

Resource Usage view spells out the workload day by day.
In Resource Graph view, the graph bars are shown in red for any allocation over the units allowed for the resource. In this case, Bonnie is overallocated for five days.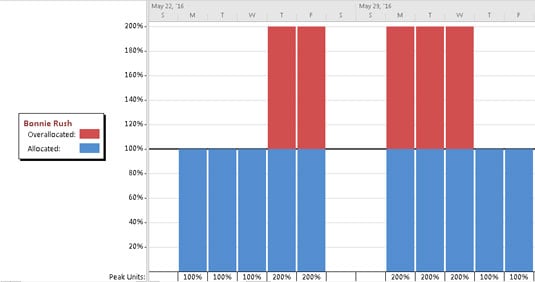 Resource Graph view gives you a visual clue to overworked resources.
Keep in mind that resources are flagged as overallocated in these Resource views based on their assignment percentages and calendars. A resource based on a standard calendar showing 8-hour days, assigned at 100 percent to a task, will work 8 hours a day on it. If you assign the same resource at 50 percent to another task that happens at the same time, the resource will put in 12-hour days (8 plus 4) and be marked as overallocated.
In Resource Usage view, any overallocated resource has the exclamation point in the Indicator column. The total hours that the resource is working each day on his combined tasks are summarized on the line that lists the resource's name. In Resource Graph view, work is summarized in the Peak Units row at the bottom, and all work that exceeds the maximum allowable amount is highlighted in the bar graphic.
About This Article
This article is from the book:
This article can be found in the category: