The actual number of things that can go wrong when working with PowerPoint 2013 is probably closer to 10,000, but the following are among the things that go wrong most often.
You can't find your file.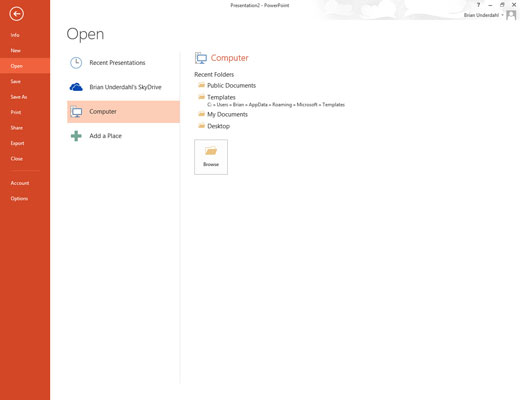 Either you saved the file in a different folder, or you used a different filename to save it than you intended.
The most likely way to find your presentation is to check the list on the right side of the File menu. This list includes the presentations you've most recently worked on. If you don't find the presentation in that list, summon the Open dialog box (choose File→Open→Computer) and then click one of the choices in Recent Folders. This displays a larger list of recently used files.
As a last resort, use the Windows search feature (on the Start menu) to find the presentation.
You've run out of hard disk space.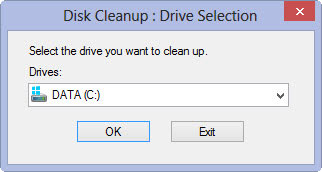 Open the File Explorer window (type File Explorer and click or tap the File Explorer button) and rummage through your hard drive, looking for files you don't need. Delete enough files to free up a few megabytes and then press Alt+Tab to move back to PowerPoint and save your file.
If your hard drive is full and you can't find more than a few files to delete, try double-clicking the Recycle Bin icon and choosing File→Empty Recycle Bin. This often frees up additional hard drive space.
If that doesn't work, type Disk Cleanup and click or tap the Disk Cleanup button. The Disk Cleanup program scans your hard drive for unnecessary files and offers to remove them for you. It can often free up many megabytes of hard drive space.
You've run out of memory.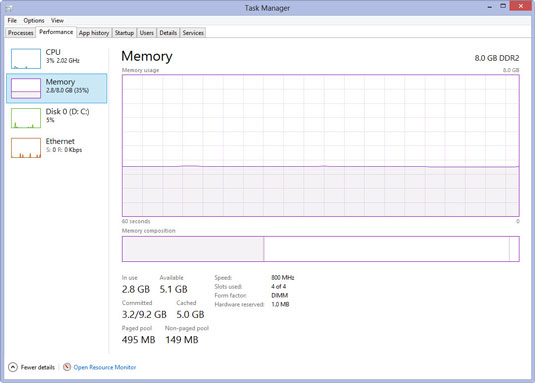 Many people still use computers with only 1GB of internal memory. Although you can run PowerPoint with as little as 1GB of memory, it will run much better if you have at least 4GB of RAM. The additional memory helps your computer to not give up and crash from the overload of open applications. Memory is cheap! Why not make sure you have enough?
Type Task Manager and click the Task Manager button. Then click the Performance tab and click Memory to view the memory information.
PowerPoint has vanished!

What happened? Most likely, you clicked some area outside the PowerPoint window or you pressed Alt+Tab or Alt+Esc, which whisks you away to another program. To get PowerPoint back, press Alt+Tab. You might have to press Alt+Tab several times before PowerPoint comes back to life.
You accidentally deleted a file.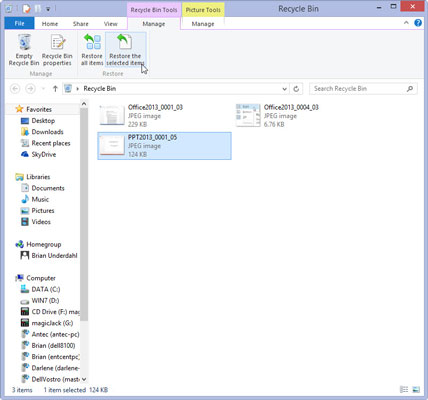 Odds are good that you can rescue the deleted file if you act quickly enough. Double-click the Recycle Bin icon that sits on your desktop. You can probably find the deleted file there. If so, right-click it and choose Restore from the menu that appears.
PowerPoint won't let you edit what you want to.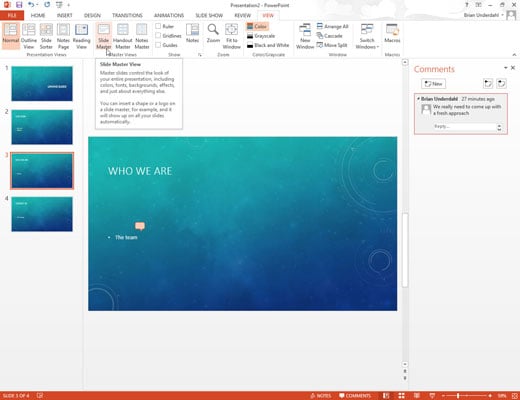 No matter how hard you click, PowerPoint won't let you edit that doohickey onscreen. What gives? The doohickey is probably a part of the Slide Master. To edit it, click the View tab and then click the Slide Master button in the Master Views group.
This step displays the Slide Master and enables you to edit it. However, the object you're trying to edit might be underneath another object. If so, move the other object aside temporarily. When you're done, drag the other object back into place.
You don't want to give everyone your personal information.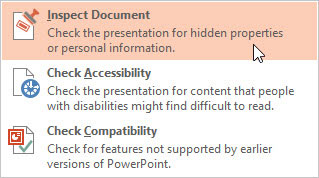 You've been preparing a presentation for your company to distribute and you'd rather not include your personal information for all the world to see.
Fear not! Office 2013 includes a feature that can inspect your document for personal information. To use it, click the File tab, choose Info, and then click the Check for Issues button and choose Inspect Document. Then follow the instructions that appear onscreen.
You can't figure out where a command went.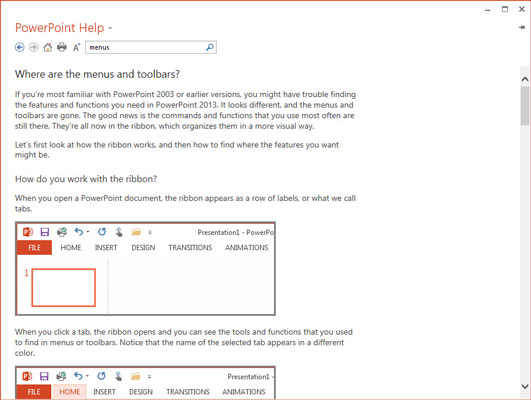 If you're a long-time PowerPoint user, you've invested a lot of time finding where all its important commands are hidden. Although the new Ribbon interface is supposed to be easier to use, sometimes features are still hard to find.
Fortunately, PowerPoint's Help has a handy chart that lists the new location for all the old commands and toolbar buttons. To find this list, click the Help button (found at the top right of the PowerPoint window), search for the word "menus," and then choose "Where are the menus and toolbars."
The projector doesn't work.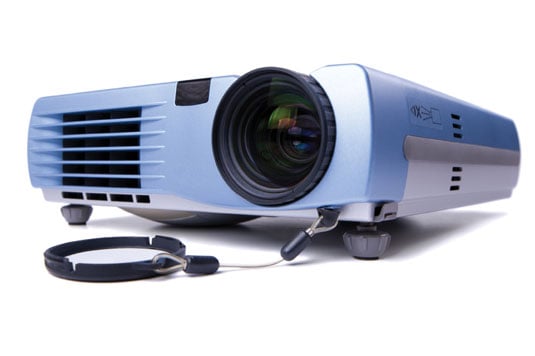 An LCD projector might not be working for many reasons. Assuming that the computer and projector are both plugged in and turned on and you have used the correct video cable to connect your computer to the projector, you should make sure your video input ports are working. If you're using a laptop, make sure that the external video port is activated.
About This Article
This article is from the book:
This article can be found in the category: