You have several ways to browse for books in the iBooks app on your iPad. The top portion of the screen shows ever-changing ads for books that fit a chosen category (Children & Teens in the example shown). But you can also browse Release Date in the particular category you have in mind.
You can scroll to the left or right for more releases to peek at. Or tap See All for many more selections.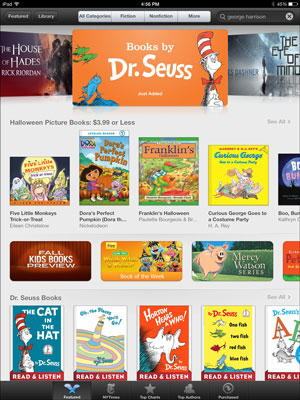 Look at the bottom of the screen. You see the following icons:
Featured: Featured works are the books being promoted in the store. These may include popular titles or an author spotlight from the likes of Twilight writer Stephenie Meyer.

Swipe the featured books at the top of the screen for more choices. Or tap See All for more selections. Scroll all the way to bottom of the screen for Quick Links (Best of the Month, Award Winners, Sneak Peeks and more). In this area, you can also check out your iTunes account information, tap a button that transports you to iTunes customer service, and redeem any iTunes gift cards or gift certificates.

NYTimes: Short for The New York Times, of course. These books make the newspaper's famous bestsellers lists, which are divided into fiction and nonfiction works. The top books in each list are initially shown. Scroll down to see more titles.

Top Charts: Here Apple shows you the most popular books in the iBook Store. You find a list for Paid Books and Free Books. Scroll down to see more of the top books in each category.

Top Authors: Tapping the Top Authors icon lets you find books by poring through a list of popular authors, shown in a scrollable pane on the left half of the screen. Flick your finger up or down to scroll the list, or tap one of the letters in the margin to jump to authors whose name begins with that letter.

When you tap an author's name, a list of his or her available titles appears in a scrollable pane on the right.

Purchased: Tapping here shows you the books you've already bought, which you can download onto your iPad.
About This Article
This article can be found in the category: