A little knowledge about taking better pictures will go a long way toward easing your workload in Photoshop Elements. If you take care in shooting and preparing the lighting for your pictures and using flash, the amount of time you spend in Elements can be greatly reduced — and you end up with much better pictures!

Most people think that the primary function of a flash unit is for indoors and night shots. However, flash photography for serious amateurs and professionals should be more often used in well-lit rooms and outdoor daylight. Flash units can be used as fill lights and, because they're easily transportable, you can take them along in your camera bag when shooting outdoors.
Flash units and equipment
Here are some items to consider when you're purchasing equipment for flash photography:
Speedlights, which are also known as external flashes (used for on camera and off camera): DSLR and mirrorless camera owners should purchase a good flash unit. Many flash units, from both your camera manufacturer and an abundant number of third parties, are available. The top of the line Canon 600EX-RT II, costs more than $500. The transmitter to trigger the flash (ST-E3-RT) costs $285. Therefore, buying a single flash and trigger from Canon will cost you more than $750.
A much better solution is to buy a third-party product. Our recommendation is the Godox V860II, which you can purchase for $179 as of this writing. Add a trigger for $69 and your total cost is $248. This flash will do everything the Canon 600EX-RTII will do (TTL, High speed sync, zoom head, and variable flash power).
You gain a huge benefit when purchasing a Godox speedlight. It's one of the very few units that support a rechargeable battery. The battery will last through a complete wedding shoot. Most other flashes rely on AA batteries, and to shoot a wedding, event, or full-day shoot, you could go through 12, 16, or 20 AA batteries.
Diffusers: Look for a low-cost diffuser that fits on the head of your flash unit. A diffuser can help you soften the light from a flash and use it as a nice fill light. You can also create some DIY (do it yourself) diffusers with artboard, black duct tape, and translucent cloth.
Umbrellas: Umbrellas are very inexpensive. They're easy to store and carry around and are excellent sources for diffusing light. If you can afford only one diffuser and flash, choose a shoot-through umbrella. A shoot-though umbrella with a removable black cover will cost you $33 at Amazon.com.
Flash unit soft boxes: Just as you can use soft boxes for diffusing lights with LEDs and strobes, you can purchase a soft box for your flash for less than $10.
Flash gels: If you want to get creative with your photos, you can purchase an array of different colored gels to put over your flash. You can buy a set of 15 to 20 different colored gels for around $10.
Radio and remote flash triggers: When you want to use your flash off camera, you need a trigger or transmitter that sits on your camera's hot shoe. The trigger is used to fire a flash off camera. Flash transmitters offering through-the-lens (TTL) metering can be quite expensive ($200 to $300 for a brand name). You can buy third-party TTL transmitters for around $69. Non-TTL transmitters require you to set your camera manually and don't use your camera's meter. These units are inexpensive — you can purchase a non-TTL transmitter for less than $20.
TTL Cables: TTL stands for "through the lens." It's a way to set up your flash for automatic exposures. You can use the cables for both automatic and manual exposures. You need to purchase these cables for your specific camera. They range in price from $9 for 3 foot cables to around $35 for 30 foot cables.
Flash as a fill light
Using a flash outdoors in daylight is referred to as daylight fill-in flash photography. Portraits, nature shots, macro photography, and more can benefit from a flash fill while shooting outdoors.

In the figure, we added a fill flash. This shot was taken under midday sun. Notice the absence of harsh shadows even in bright sunlight.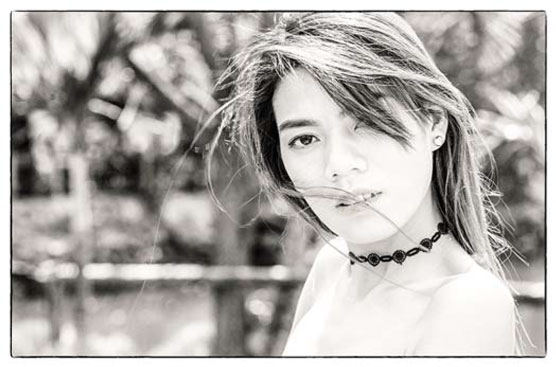 © Ted Padova; Model: Bernadette Baro
Flash fill photo.
About This Article
This article is from the book:
This article can be found in the category: