Drawing tablets from Wacom enable you to use a special stylus, which you hold like a pen or pencil or brush, to move the cursor (rather than using a mouse, track pad, or trackball). Some of Wacom's models enable you to control the cursor with Multi-Touch, much like an iPhone or iPad, and they include support for Windows 10. There are several reasons why using a stylus is a huge improvement over a mouse.
More natural movement
Whether you use a pen only to sign your name or you're a traditionally trained artist, the movement of a stylus is far more natural than pushing a mouse around a desk.
Health and Safety
Use of a drawing tablet instead of a mouse can help avoid repetitive stress injuries and carpal tunnel syndrome, and can be vastly more comfortable for those who suffer from arthritis and tendonitis.
Artistic Control
With up to thousands of levels of sensitivity (wow — I wish my hands had that level of sensitivity!), a "click" or a "drag" using a drawing tablet is far more versatile than working with a mouse, especially when you're working with Photoshop's erodible, airbrush, and watercolor brush tips and the Mixer Brush tool. Open the Photoshop Brush Settings palette and take a look at some of the six different options that you can control through Pen Pressure, Pen Tilt, or (with the Wacom Airbrush) Stylus Wheel. (And don't forget about tools that can be directly controlled with pen pressure, such as the Quick Selection tool, which can use pen pressure to adjust the brush diameter.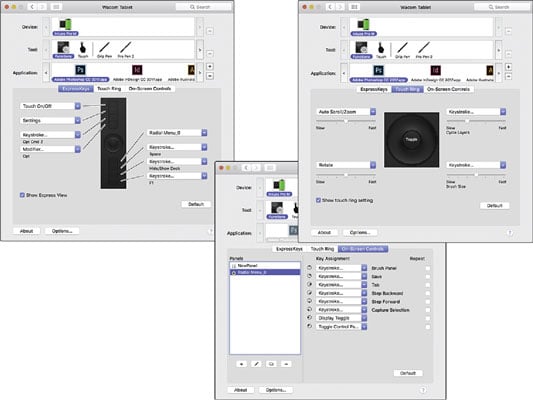 Six of the brush settings can be controlled with pen pressure and/or pen tilt.
Extended Comfort
You can lean back and relax or sit up straight: With fingers poised over the keyboard or hand grasping mouse, you're pretty much locked into a single position, often for hours at a time. With the long cord of a Wacom tablet plugged into a handy USB port or connected wirelessly using Bluetooth technology, you have the flexibility to change positions, move back from the monitor, even slouch in a way that would make Mom turn pale — all while still sending input to the computer. Whether you work with the tablet on the desk or on your lap, it doesn't matter; do whatever is most comfortable and efficient for you.
Gestures, Programmable ExpressKeys, Touch Rings, and Touch Strips
Many of the same gestures you use on a trackpad or touchscreen are available with a number of Wacom's tablets. And how about convenient controls, right on the tablet, that let you access modifier keys, keyboard shortcuts, and even brush sizes and tool selection? No need to lean back in toward the desk to press a key or two; just program your most-needed keystrokes to the tablet. Keep in mind, too, that the Intuos line is southpaw-friendly — switch the USB cord and all the labels and controls conveniently flip over for lefties. You can also customize each of these controls and keys.
About This Article
This article is from the book:
This article can be found in the category: