If you're new to Adobe Photoshop Lightroom Classic, you'll be eager to discover its exciting possibilities. Use this Cheat Sheet to get the most out of Adobe Lightroom Classic, get to know the ins and outs of Grid view and the Library module toolbar, discover keyboard shortcuts, and, if you run into a problem, get Adobe Lightroom Classic help by following the troubleshooting steps.
Expanded Lightroom Classic grid cells
You will spend a lot of time looking at photos in Grid view. The Expanded Cells style (View@@–>Grid View Style@@–>Expanded Cells) puts a wealth of information right at your fingertips. Press J to cycle through each of the three cell styles.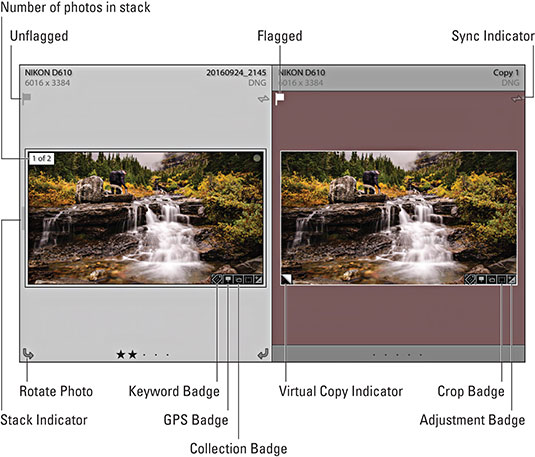 Keyboard shortcuts
Lightroom Classic provides keyboard shortcuts for various functions to help boost your productivity. Here are tried and true workhorse shortcuts every Lightroom Classic user should commit to memory:
| | |
| --- | --- |
| To Do This | Use This Keyboard Shortcut |
| Undo last action | Command+Z (Ctrl+Z) |
| Jump to Grid | G |
| Jump to Loupe | E |
| Jump to Develop | D |
| Jump to Crop tool | R |
| Cycle through screen modes | Shift+F |
| Full Screen Preview | F |
| Show/Hide both side panel groups | Tab |
| Show/Hide all panels | Shift+Tab |
| Select All | Command+A (Ctrl+A) |
| Deselect All | Command+D (Ctrl+D) |
Lightroom Classic's Library module toolbar
The Toolbar in the Lightroom Classic Library module has more gadgets than Batman's utility belt. You can toggle each gadget on and off via the drop-down menu on the right side. You can show or hide the Toolbar in any module by pressing the T key.

Troubleshooting Lightroom Classic
There may come a time when you need Adobe Lightroom Classic help because Lightroom doesn't behave the way you expect it to work or just plain doesn't work at all. Don't panic. Take a deep breath, and follow these troubleshooting steps. If the first step doesn't resolve the problem, move on to the next step, and so on.
Restart Lightroom Classic.
Go to Help→Updates, and check for updates (install if available).
Reboot your computer, and then restart Lightroom Classic.
Replace Lightroom Classic's preference file. Here's how:

Close Lightroom Classic.
Hold down the Option and Shift keys (Alt and Shift on Windows) while launching Lightroom Classic (keep the keys held down until you see the Reset Lightroom preferences prompt).
Click the Reset Preferences button to reset all your preferences to their default settings.

Ask a friend. When all else fails, reach out for help.

Reach out to me on Twitter: @Lightroomers
Go to Help→System Info and note the Lightroom Classic Version Number to share with whomever you ask for help, along with your operating system version.
About This Article
This article is from the book:
This article can be found in the category: