The camera module within the Lightroom app for mobile (iOS and Android) has become an absolute favorite camera for those on the go. When you sync your Lightroom Classic catalog with Lightroom for mobile, all the photos you take in the mobile app are automatically uploaded to the cloud and then eventually downloaded to the computer running Lightroom Classic. This is an unbeatable combination just for that alone, but there's a lot more in the Lightroom for mobile camera to love.

Some of the features found in the camera module will depend on the mobile device you are using at the time. Be sure to check out the minimum requirements to ensure that your mobile device is compatible. (Note that these screen captures were made on an iPhone 7+.)

This app undergoes rapid development, so there will be new features added that are not covered here. Keep up with all Lightroom news. Note that these screen captures were made on an iPhone with dual lenses, so they may vary slightly from what you see on your device.
Shooting in Raw mode (DNG)
Sure, you can shoot in the standard JPG file format, but why not shoot in Raw mode and take full advantage of the editing power inside the Lightroom app? Keep in mind that photos captured in the app are not saved to the local camera roll (they are stored in a temporary cache until they can be uploaded to the cloud (data charges may apply) and then removed from the device) so these photos won't clog up your device's local storage.

Tap the Camera icon (it looks like a blue camera) to open the camera. You can change file format between JPG and DNG (raw) by tapping the File Format icon in the top-center of the screen, as shown. This opens the File Format Selector, where another tap will switch you DNG (if not there already).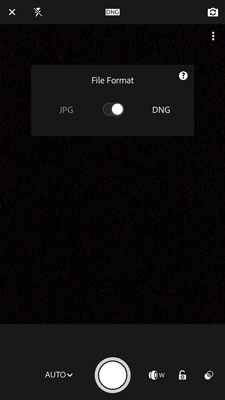 Switching to shoot in DNG file format.
Note that for iOS, DNG raw image capture is supported on any iPhone or iPad device that has at least a 12-megapixel camera and is running iOS 10.0 or later. For Android, DNG raw image capture is supported on devices running Android versions 5.0 and later (though support for DNG capture is enabled and set solely by the device manufacturers).
Shooting in Professional mode
When you first open the camera, it will probably be set to Auto mode, which lets the camera control shutter speed, ISO, focus, and white balance automatically. That's fine for snapshots or when you are in a hurry, but try taking back a little more control by switching over to Professional mode. Tap Auto to expand the Mode Menu and tap Professional, as shown.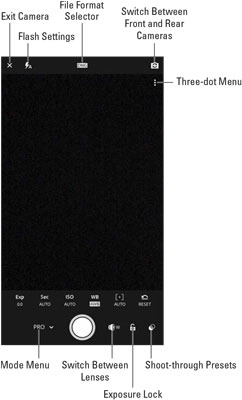 Try shooting in Professional mode for more control.
In Professional mode, you can choose from the following controls (or leave them in auto mode):
Exp: This is the control for exposure compensation, which allows you to override the camera's meter and increase or decrease the exposure value to better match the scene.
Sec: Control shutter speed if you are trying to stop motion or play with creative blur.
ISO: Manually control ISO setting to avoid noise or work in low light.
WB: Choose the right white-balance setting for the scene you are in.
[+]: This is the control for switching from auto focus to manual focus. Note the green highlight appearing along in-focus edges is called focus peaking. The area highlighted in green is in focus.
Reset: One tap sets all the previously mentioned controls back to automatic modes.
Tap the icon representing the aspect you want to change to access its options (usually represented by a simple slider except in the case of white balance). Double-tapping an icon resets it to its default settings.
Using shoot-through presets
If you like to visualize creative effects while shooting, tap the Shoot-through Presets icon in the lower-right corner of the screen. There are five built-in presets (in addition to none) to choose from: High Contrast, Flat, Warm Shadows, High Contrast B&W, and Flat B&W. To help you visualize the scene in B&W, for example, choose either of the B&W presets and the live scene changes to match, as shown in the following figure. These presets are completely non-destructive, so you can modify the settings applied to the photo or completely reset the settings when editing.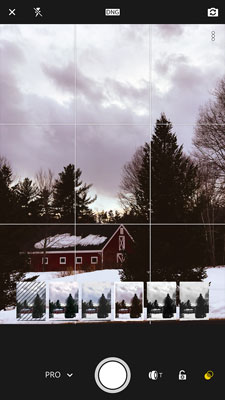 Shoot-through presets add creativity to your shooting.
Helpful overlays
There are a number of overlays that you can invoke to help compose the photo and avoid over exposing the highlights. Tap the three-dot menu in the upper-right corner of the screen to expand the options. From left to right, as shown, the options are
Aspect Ratio: This will show the default aspect ratio for your device at first, but you can switch between 16:9, 3:2, 4:3, and 1:1. You'll get a live preview of the aspect ratio you choose for taking the photo, but you can always revert to the full (uncropped) image in the Crop tool by choosing Original from the list of aspect ratios.
Self Timer: Set a 2-, 5-, or 10-second timer before the shutter trips. I cover this more in the next section.
Grid & Level: You can switch between three grid overlays to help with composition and even enable an electronic level indicator to help you avoid crooked horizons.
Highlight Clipping: Enable this option to easily see any area of the photo that the highlights are being over-exposed. Any highlights in danger of being clipped will show a series of diagonal lines called zebra stripes. Use that exposure compensation mentioned in the previous section to recover those highlights before taking the photo.
Settings: The Settings panel contains controls for maximizing screen brightness to help you see in bright daylight conditions and to enable/disable geotagging photos. If your camera supports HDR mode you can have the app save the normal unprocessed photo in addition to the HDR version.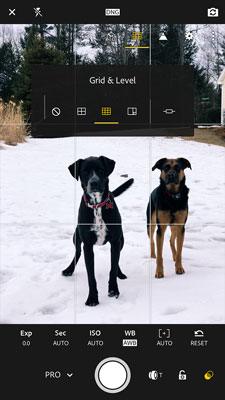 Access additional tools that help you get the best shot.
Self timer, Burst mode, and remote trigger
You can trigger the shutter within the app by tapping the big shutter button within the app interface or by pressing the volume control on the side of your device. Note that on Android, you need to first click that Settings icon I mentioned previously and enable capture from the Volume Keys Function menu. This is very handy when you hold the device in landscape orientation.

You can also leverage that volume control trigger by turning your headphones (with volume control) into a remote camera shutter. This can be useful for slow shutter scenes when your device is on a stable platform (like a tripod). There are even Bluetooth-enabled volume control buttons that you can buy for a true handsfree remote shutter trigger.

On the iPhone (and I hope coming to Android), you can fire the shutter in burst mode by pressing and holding the volume control button, which is very useful for capturing fast action scenes. One final tip, switch your phone to silent mode to disable all sounds, including the fake camera shutter sound.
Last photo preview
You can quickly see a preview of the last photo taken by tapping the small thumbnail to the left of the shutter button. This is useful for things like making sure everyone's eyes are open in a group photo. Just tap the preview photo to dismiss it, return to the camera, and keep shooting.
Exposure lock
When faced with a tricky exposure situation, you may want to ensure that the camera doesn't change its exposure settings due to changing light (such as on a partly cloudy day). To do so, you can frame up your photo, dial in any desired exposure compensation, and then tap the Exposure Lock icon (refer to Figure 18-2) to lock in your settings. The camera will hold those settings until the Exposure Lock icon is tapped a second time.
In-camera HDR mode
A relatively new feature added to the Lightroom camera is the ability to shoot in HDR mode. This allows you to shoot in raw (DNG), and when you press the shutter button the camera takes three photos exposing for the highlights, shadows, and midtones, automatically aligning and blending them into a single DNG photo with a much higher dynamic range than any single photo but with all the benefits of a raw photo for editing purposes. You can even shoot these handheld, so no tripod is needed.

Use this mode when photographing a scene that has bright highlights (such as clouds in the sky on a sunny day) and dark shadows (such as shaded areas on the ground). It is not ideal for moving subjects, but don't be afraid to experiment and see what is possible.
Take a selfie or switch lenses
You can switch between the rear- and forward-facing cameras on your device from within the Camera app by tapping the Camera icon in the upper-right corner of the interface (refer to Figure 18-2). Selfie is also an option in the widget and 3D touch options I cover in the next section for faster access. If you have a dual-lens device, you can switch between the wide and telephoto lenses by tapping the Lens icon that appears to the left of the shutter button.
Camera launch shortcuts
Beyond tapping the Camera icon in the app to open the camera, you can use any of the alternative shortcuts when you want to open the camera quickly. These shortcuts do vary with your operating system, so let's look at iPhone first. If you have a device that supports 3D touch, you can do a long press on the Lr app icon to access a shortcut for jumping right to the camera. Additionally, on iOS you can configure a Lightroom widget on the Home screen to allow fast access to the camera. Head here to learn more about configuring widgets on iOS.

In a somewhat similar fashion on Android, you can add a Lightroom camera widget to the Home screen. Head here to learn more about adding widgets on Android.

After you have the options configured, you'll be ready to capture anything that comes your way!
About This Article
This article can be found in the category: