If you already have a Google account and you want to use that account to house your channel, you can. If you're creating a new channel, it may make sense to create a new Google account to go with it. Follow these steps to get a Google account you can use on YouTube:
Click the blue Sign In button.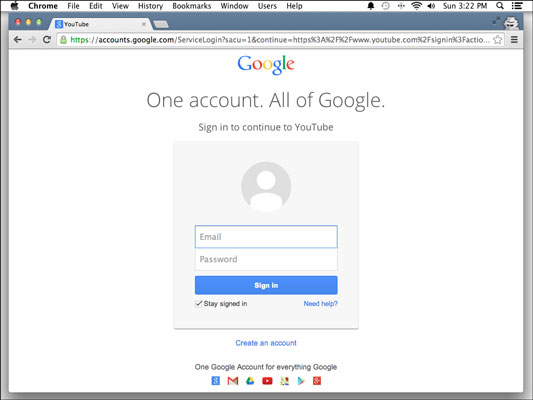 Doing so takes you to the Google login screen, where you can log in or create a new account.
If you already have a Google account, you may already be logged in. If you're creating a new account to go with a new channel, it may help to use a private browsing mode in your web browser to avoid confusing Google.
Click the Create an Account link below the Username and Password fields.
Doing so takes you to the Create Your Google Account page.
Fill in the necessary information.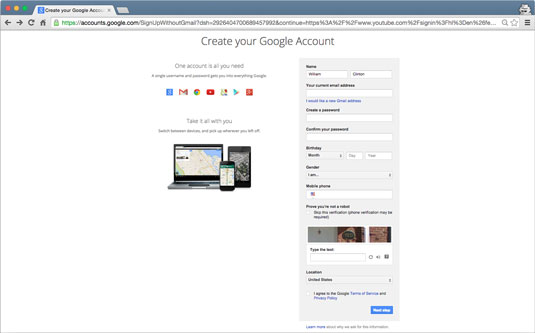 The fields shown are much what you'd expect. You need to choose a birthday. You may not wish to show your real age, what with YouTube largely being a young person's game, but make sure the age given is at least 18. Some content on YouTube has age restrictions, and giving your channel a birthday that makes it less than 18 years old can come back to bite you.
Click Next Step.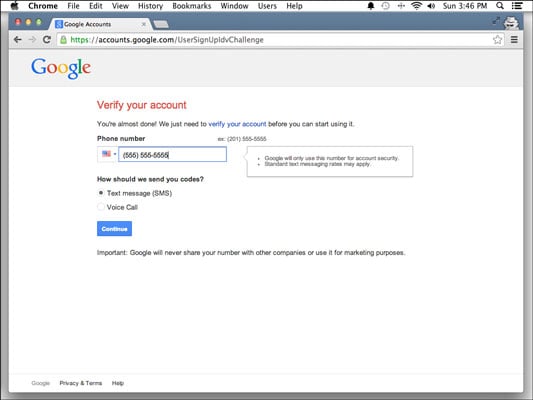 If Google doesn't recognize your phone number or your current or alternative email address, you'll need to verify your account via text message or a voice call. You're given the choice on a page like the one shown. If it does recognize you, it will ask you to set up a Google+ profile. If that's the case, you don't need to verify, and you may proceed directly to Step 7.
Choose your verification method and then click Continue.
Whichever method you choose — Voice Call or Text Message (SMS) — Google manages to get a verification code sent your way.
In the Enter Verification Code text field, enter the code that was sent to you and then click Continue.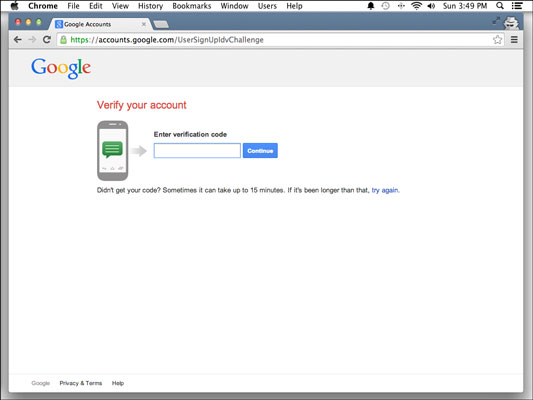 The next screen requires that you create a Google+ account. This is not optional. Google has had trouble attracting users to its social network, Google+, and this is how it generates user interest — by requiring users of its more popular services to have a Google+ account as well. There's no getting out of it, so don't even try.
Click Next Step to optionally create a public Google+ profile.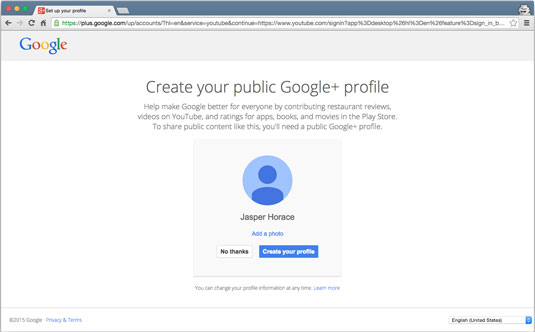 Note that you don't need to create a public profile, but YouTube management is bit easier if you do. Click the Create Your Profile button if you want a Google+ profile; otherwise, click the No Thanks button.
After admiring Google's warm and human touch, click the Back to YouTube button to wend your way back to YouTube.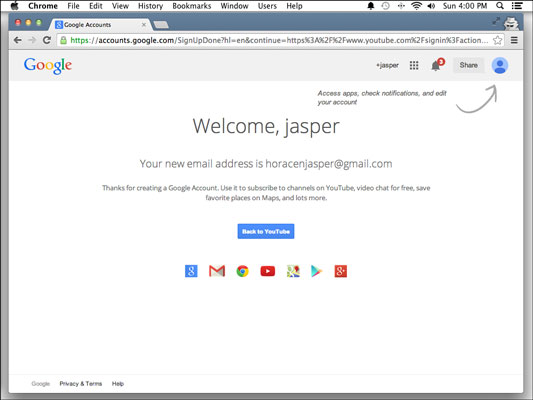 Google displays a lovely Welcome screen, addressed to you personally. You can add an account picture by clicking the Add a Photo link.
About This Article
This article is from the book:
This article can be found in the category: