Moving is good — even if it's not that fast. Motion helps you burn calories and gets your heart pumping and your blood flowing. The Apple Watch Activity app's Move ring tells you how well you're doing based on your personal active calorie burn goal for the day.
For example, the default goal is 600 calories per day, which is a couple hours of walking around a shopping mall. If that's too easy to reach or, on the flipside, too ambitious, you can easily make necessary adjustments to suit your needs. Just press firmly on the Apple Watch screen (Force Touch) and change the Move goal to something more achievable: Press + or – until you see your desired goal.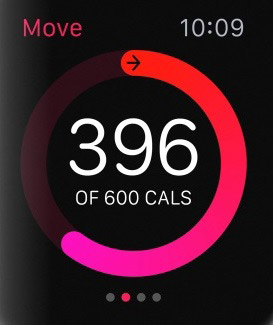 To use the Move tab in the Activity app, follow these steps:
Press the Digital Crown button to go to the Home screen.

Tap the Activity icon.

You can also raise your wrist and say "Hey, Siri, Activity." Either method launches the Activity app.

Swipe to the left once on the Activity app's main (summary) screen to land on the Move page. Or whatever you're doing on Apple Watch, tell Siri "Show me Move information" to go right to this screen.

Move tells you how much you've moved during the day. The large number in the middle of the watch screen is your current estimated calories burned. The small number underneath is your daily goal, while the reddish-pink ring visually shows how close you are to hitting your daily goal.

You can change your caloric goal in the iPhone's companion Activity app by pressing on the screen (Digital Touch) and selecting a new goal. Press + or – to set your desired goal. You can also change your Exercise and Stand goals on your iPhone too.

Swipe down on the screen to see a History graph with each hour of the day presented and how well you've done per hour (highlighted by a vertical line).

The taller the pinkish bar, the more you moved that hour.

Twist the Digital Crown button to see even more details about your Move time or press the Digital Crown button to return to the Home screen.

You can now go about your business.
Many different kinds of bands are available for Apple Watch, and active types might prefer the aptly named Sport band made from fluoroelastomer (synthetic rubber), which comes in five different colors.
Compared with leather, the link bracelet, and the Milanese loop, the high-performance and smooth Sport band might be most ideal for those who exercise because of its light weight, durability, and resistance to sweat and rain. It also features a pin-and-tuck enclosure for a secure fit. This band is available for all three Apple Watch models. Check here for more on Apple Watch bands.
About This Article
This article can be found in the category: