Apple Watch would be a half-baked product if it could only be used for reading messages and not email. Thankfully, it can also deliver a decent mail experience on your wrist. This is "decent" because one thing you can't do on Apple Watch is send a new email or reply to an existing one. You can read and manage your mail, sure, but to reply, you have to open an email on your iPhone to type a response.
Apple Watch's inbox is synced with your iPhone, so you can browse by date, sender name, titles, contents, and attachment/VIP status or by the default All Inboxes. This is especially important for those who rely on email communication for work.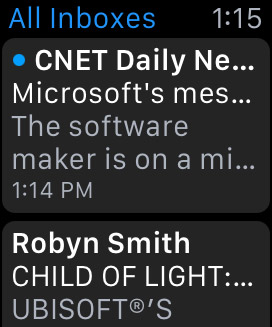 Along with reading an email, you can flag it, mark it as read or unread, or move it to the Trash.
To read and act on an email message, follow these steps:
Press the Digital Crown button to go to the Home screen.

Tap the Mail app.

Or raise your wrist and say "Hey, Siri, Mail." Either action launches the Mail app and takes you right to your inbox.

Use the Digital Crown button or your fingertip to scroll up and down through your emails and then tap the subject line to open one.

The email you selected fills up your Apple Watch screen and the others in your inbox won't be seen.

When in an email, press and hold on the screen until some options, such as Flag, Unread/Read, and Trash, appear.

If the email has already been read, you can see the option to mark it as Unread (to have it highlighted again).
It's important to understand you can't reply to an email on Apple Watch. You can read and manage your messages, but no options exist to dictate a response, like you can with other Apple Watch apps (such as Messages, Twitter, and Notes). Sad — but true.
About This Article
This article can be found in the category: