The iPad is never going to serve as a substitute for a high-end, photo-editing program such as Adobe Photoshop. But you can do some relatively simple touch-ups, right from the Photos app.
Choose an image and tap Edit. At the bottom of the Edit Photo screen are five icons: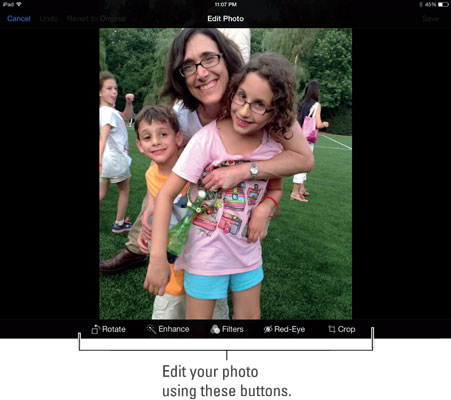 Rotate: Rotate the image counterclockwise.

Enhance: Let the iPad take a stab at making your image look better. Apple lightens or darkens the picture, tweaks color saturation, and more. Repeatedly tap the icon to turn this tool on or off. Tap Save if you like the result. Along the way, you can always tap Undo or Revert to Original.

Add a filter: Tap Filters to choose a filter — Mono, Tonal, Noir, Fade, Chrome, Process, Transfer, and Instant. If you're not satisfied after applying a filter, tap None or Revert to Original to go back to the original photo.

Remove red-eye: Get rid of that annoying red-eye. Tap Red-Eye, and tap each eye; tap again to undo. If the iPad doesn't actually find an eye to correct, a message pops up indicating that is the case.

Crop: Crop the image. By tapping Crop and then Aspect Ratio, you can crop the image through many different options (Original, Square, 3 x 2, 3 x 5, 4 x 3, 4 x 6, 5 x 7, 8 x10, 16 x 9). Drag the photo around the crop grid, pinch, and zoom. If necessary, choose Reset and pick a new aspect ratio.

When you're satisfied with the result, tap Crop and then tap Save to save the image. Or tap Cancel to revert to the original or tap Revert to Original at the top of the screen to accomplish the same thing.
About This Article
This article can be found in the category: