The Play Store is set up and run by Google, mainly for people with Android phones. Adding an app to your phone is similar to adding software to your PC. In both cases, a new app (or software) makes you more productive, adds to your convenience, and/or entertains you for hours on end — sometimes for free. Not a bad deal.

There are some important differences, however, between installing software on a PC and getting an app on a cellphone:
Smartphone apps need to be more stable than computer software because of their greater potential for harm. If you buy an app for your PC and find that it's unstable (for example, it causes your PC to crash), sure, you'll be upset. If you were to buy an unstable app for your phone, though, you could run up a huge phone bill or even take down the regional cellphone network. Can you hear me now?
There are multiple smartphone platforms. These days, it's pretty safe to assume that computer software will run on a PC or a Mac or both. On the other hand, because of the various smartphone platforms out there, different versions within a given platform aren't always compatible. The Play Store ensures that the app you're buying will work with your version of phone.
How to get to the Google Play Store
You can access the Play Store through your Galaxy S10 phone's Play Store app or through the Internet. The easiest way to access the Play Store is through the Play Store app on your Galaxy S10 phone. The icon is shown in the following figure.

The Play Store icon.

If the Play Store app isn't already on your Home screen, you can find it in your Apps list. To open it, simply tap the icon.

When you tap the Play Store icon, you're greeted by the screen looking something like what is shown.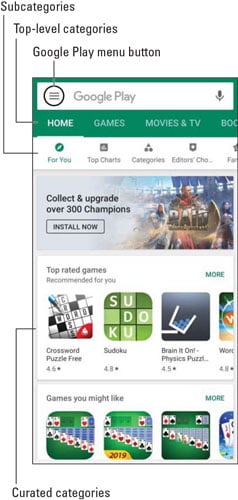 The Play Store home page.
As new apps become available, the highlighted apps will change, and the Home page will change from one day to the next.
In addition, the good folks at Google spend a lot of time thinking about what is the best way to help the hundreds of millions of Android users find the best application from the selection of 3.5 million apps.
This is no small task. Some of those users are very experienced and know just what they want. Others are walking in the door for the first time while still others are just coming to browse and see whether anything strikes their fancy.
The goal for Google is to make every user who comes in find what they want. The goal in this book is to give you enough information so that you can be comfortable downloading your first app and then comfortable finding other interesting apps as you become more familiar with the layout.
What's available: shopping for Android apps
The panorama that exists for the Google Play home page is very extensive. You can swipe to the right a long way and you can swipe down dozens of levels.

Do not be surprised if you open up the Play Store home page one day and find that it has a completely different layout. Google tries different formats from time to time to solve one problem or another and keep things fresh. The chances are good that the lower level categories are still there, and you can find what you are looking for, even if the structure described is no longer exactly accurate.

The preceding figure shows several top-level categories (plus a few more that are off to the right):
Home: This is a catch-all category. It includes the apps for productivity, information, social connection, or enjoyment.
Games: Games are applications in which you're are an active participant.
Movies & TV: The Google Play Store is a great source for video entertainment.
Music: Likewise, the Google Play Store is a great source for audio entertainment.
Books: This is the section for audiobooks and e-books. Audiobooks are the smartphone version of books on tape, where a person reads you the book. E-books allow you to use your smartphone as an e-reader.
Newsstand: This section is where you can subscribe to your favorite newspaper, magazine, or other periodical.
Navigating the Google Play home page
When you've decided that you want to look at apps, you see the following options when you tap the link for one of the top-level categories:
Top Charts: These are the best-selling apps. This is often a good indication that you may want to give it a try.
Family: If you're looking for apps suitable for kids, go here.
Categories: This option takes you to a hierarchy of application types that is useful if you already know what you want to add. There is more on these different categories later in this chapter.
Editors' Choice: While relying on sales volumes in Top Charts is one way to find apps you may find valuable, this section is curated, hopefully with people who think like you.
Early Access: Let's say that you've reviewed 3.4 million apps, and you just haven't found the right one for you. You can look at the apps that have just been added to the Google Play virtual shelves by accessing this section. These are the newest apps in the store.
Google is doing its best to help you find the app you need among its inventory of hundreds of thousands of choices. Today's version of the Play Store has a link called Categories where you can start digging by app type.
Art & Design: These apps let you exercise the powerful graphics process to make some cool images, from the abstract to the practical, such as floorplans.
Augmented Reality: These apps give you the chance to use your camera lens and see things that are not there (in a good way).
Auto & Vehicles: We love our cars. These apps help you buy them for less, enjoy them more, and enjoy them for a longer time.
Beauty: These apps offer tips and techniques on how to look that much better.
Comics: These apps are meant to be funny. Hopefully, you find something that tickles your funny bone.
Communication: Yes, the Galaxy S10 phone comes with many communications apps, but these Play Store apps enhance what comes with the phone — for example, tools that automatically send a message if you're running late to a meeting or text you if your kids leave a defined area.
Dating: This the modern way to meet that special someone, or at least someone more interesting that Saturday night TV.
Education: To quote Emil Faber, "Knowledge is good."
Entertainment: Not games per se, but these apps are still fun: trivia, horoscopes, and frivolous noisemaking apps. (These also include Chuck Norris facts. Did you know that Chuck Norris can divide by 0?)
Finance: This is the place to find mobile banking apps and tools to make managing your personal finances easier.
Food & Drink: Here is the place to find the best restaurants and obtain the best recipes.
Health & Fitness: This is a category for all apps related to mobile medical apps, including calorie counters, fitness tracking, and tools to help manage chronic conditions, such as diabetes.
Lifestyle: This category is a catchall for apps that involve recreation or special interests, like philately or bird-watching.
Maps & Search: Many apps tell you where you are and how to get to where you want to go. Some are updated with current conditions, and others are based on static maps that use typical travel times.
Multimedia: The Galaxy S10 comes with music and video services, but nothing says you have to like them. You may prefer offerings that are set up differently or have a selection of music that isn't available elsewhere.
News & Weather: You'll find a variety of apps that allow you to drill down until you get just the news or weather that's more relevant to you than what's available on your extended Home screen.
Productivity: These apps are for money management (such as a tip calculator), voice recording (such as a stand-alone voice recorder), and time management (for example, an electronic to-do list).
Reference: These apps include a range of reference books, such as dictionaries and translation guides. Think of this section as similar to the reference section of your local library or bookstore.
Shopping: These apps give you rapid access to mobile shopping sites or allow you to do automated comparison shopping.
Social: These are the social networking sites. If you think you know them all, check here just to be sure. Of course, you'll find Facebook, LinkedIn, Twitter, and Pinterest, but you'll also find dozens of other sites that are more narrowly focused and offer apps for the convenience of their users.
Software Libraries: Computers of all sizes come with software libraries to take care of special functions, such as tools to manage ringtones, track app performance, and protect against malware.
Sports: You can find sports sites to tell you the latest scores and analyses in this part of the Play Store.
Themes: Your phone comes with color schemes, or This part of the Play Store offers a broader selection.
Tools: Some of these apps are widgets that help you with some fun capabilities. Others are more complicated and help you get more functionality from your phone.
Travel: These apps are useful for traveling, including handy items, such as currency translations and travel guides.
Then there are the curated categories, which change over time. The Google Play Store does its best to keep these categories fresh and customized for your needs and tastes.

The Play Store's algorithms aren't always perfect. For some reason, they keep showing me curated apps related to fashion, personal hygiene, and self-grooming. This has to be a mistake.

Many of your favorite websites are now offering apps that are purpose-built for your phone. You can use the full site with your high-resolution screen or use the mobile version. An alternative is to download the app for that website, and it will present the information you want from that website on your phone in a way that is even easier to access. In fact, when you enter a website, your phone will look to see if you have the corresponding app. If so, you phone automatically opens the app for you. Cool!
Navigating the Google Play games page
There are lots and lots of options for entertainment in this section, which you access by tapping the Games link shown in the preceding figure. They're categorized as follows:
For You: This is Google, so they have computers that take what they know about you so far and make a list of what may appeal to you based on that information.
Top Charts: As with apps, these are the best sellers among games. It's a good place to start.
New: This is like Early Access for apps, but for games.
Premium: These are the games that you can use for a price. Some are one-time fees; others involve ongoing charges. The benefit of paying for some game titles is that you don't have to ignore ads. In other cases, the free games offer you just a taste of what you would get, and all the really cool things are only available when you pay the piper.
Categories: This option takes you to a hierarchy of application types — useful if you already know what you want to add. I offer more info on the different categories later in this chapter.
Family: This is an entire section for games to keep the kids happy.
Your Galaxy S10 phone takes interactive gaming to a new level. Games in this section of the Play Store fall into the following categories:
Arcade & Action: Think of games that are based on what you find in arcades: shooting games, racing games, and other games of skill and/or strategy.
Brain & Puzzle: Think crossword puzzles, Sudoku, and other word or number games.
Cards & Casino: You can find an electronic version of virtually every card or casino game. (If you know of any game that's missing, let me know so that I can write the app and sell it to the three people who play it.)
Casual: This crossover category includes simpler games, some of which are also arcade, action, or cards, but are distinguished by the ease with which you can pick them up, play them, and then put them down. Solitaire may be the most widespread example of a casual game.
Educational: Who says games can't be educational, too? That would not include anyone who has browsed this section!
Music: Here are the music-based games you were looking for.
Racing: Who needs one of those game consoles to race cars when you have your S10?
Role Playing: This is the place to look if you want an immersive game that will take you to a new world.
Sports: You can find sports sites to tell you the latest scores or find you fantasy sports leagues.
Strategy: If you want to find how clever you are (or aren't), strategy games are for you. Think chess or bridge, but on your S10.
Trivia: What was the name of the high school in Welcome Back, Kotter? Which is larger: the moon or Pluto? If these questions capture your imagination, this is your new favorite category.
Travel: These apps are useful for traveling, including handy items, such as currency translations and travel guides.
Below the subcategories are rows of curated game categories. If you find a row that you like, you can start scrolling to the right to see the options within that curated category. Hopefully, the curator thinks like you do and can offer you lots of suggestions. This is particularly handy if you're not sure what you want.

Free apps are great. But don't be afraid of buying any apps that you're going to use frequently. Apps usually cost very little, and the extra features may be worth it. Some people have an irrational resistance to paying $1.99 monthly for something they use all the time. Frankly, this is a little silly. Let's all be rational and be willing to pay a little bit for the services we use.
About This Article
This article is from the book:
This article can be found in the category: