This spicy chicken is a Jamaican favorite. The longer you marinate the chicken, the more flavorful the taste. Wear latex or rubber gloves when touching the jerk marinade with your hands. Using a spatula or basting brush is a good idea. Pineapple is the best with this dish.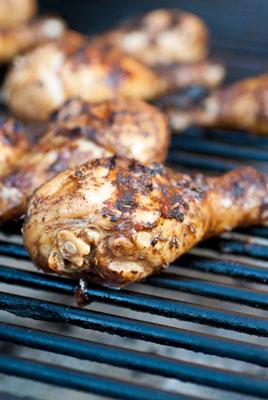 Credit: iStockphoto.com/Chiyacat

Yield: 4 to 6 servings

Preparation time: 15 minutes; 2 to 24 hours marinating time

Cooking time: 30 to 40 minutes

Spice meter: Hot and spicy

1 recipe Jamaican Jerk Sauce or commercial jerk sauce

3-1/2 to 4 pounds chicken parts
Put the chicken in a shallow dish that's large enough to hold the pieces in one layer. Spread the jerk sauce on both sides of the chicken.

Marinate in the refrigerator for a minimum of 2 hours or overnight.

Preheat the grill or broiler. Broil skin-side down or grill skin-side up, basting occasionally with the sauce.

Cook about 10 to 15 minutes then turn and cook, basting occasionally and turning once or twice more, until the chicken is cooked through.

The juices should run clear when the meat is pierced with the tip of a paring knife. Total cooking time should be about 30 to 45 minutes, depending on the size of the parts.
Alternatively, bake the chicken in a preheated oven at 350 degrees F until the juices run clear when the meat is pieced with the tip of a paring knife, about 40 to 45 minutes. Brown the chicken, if necessary, under the broiler or on a grill.
Per serving
: Calories 366 (From Fat 191); Fat 21g (Saturated 5g); Cholesterol 139mg; Sodium 402mg; Carbohydrate 7g (Dietary Fiber 1g); Protein 35g.
Jamaican Jerk Sauce
Traditionally, this pungent, spicy sauce is made with Scotch bonnet peppers, known to be the hottest on the planet. You may substitute a much larger quantity of other hot chiles, such as bird's eyes, serranos, or jalapenos.

Most commonly, jerk sauce is used as a marinade for chicken and pork, but you can try it with kebabs, lamb, or ribs. The marinade can be made several days ahead and refrigerated until you're ready to use it.

Yield: About 1-1/3 cups

Preparation time: 15 to 20 minutes

Spice meter: Hot and spicy

2 teaspoons ground allspice

2 teaspoons dry English mustard

1 teaspoon salt

1 teaspoon freshly ground black pepper

1/2 teaspoon freshly grated or ground nutmeg

1/4 teaspoon ground mace or additional ground allspice

1/4 teaspoon ground cinnamon or ground cloves

1 tablespoon minced fresh thyme or 1-1/2 teaspoons dried

1 tablespoon dark brown sugar, or more to taste

1 Scotch bonnet chile, seeded, or 12 to 18 serranos or jalapenos

5 plump cloves garlic, minced

10 to 12 plump scallions, white part only, coarsely chopped

1/2 cup orange or lime juice

1/3 cup white wine vinegar or cider vinegar

2 tablespoons vegetable oil
In a food processor fitted with a metal blade, combine the allspice, mustard, salt, black pepper, nutmeg, mace, cinnamon, thyme, and sugar and pulse to blend.

Add the chile, garlic, and scallions and pulse to blend. Add the orange or lime juice and vinegar and pulse. Add the vegetable oil and pulse to combine. The mixture should be a thick paste . You can add additional juice if you want to thin it.

To use as a marinade, pour the sauce over the food and turn to coat. Marinate in the refrigerator for a minimum of 2 hours or overnight. Grill, broil, or roast the food, basting occasionally, until it's cooked as you prefer.
Per serving:
Calories 24 (From Fat 13); Fat 1g (Saturated 0g); Cholesterol 0mg; Sodium 112mg; Carbohydrate 3g (Dietary Fiber 0g); Protein 0g.
About This Article
This article is from the book:
This article can be found in the category: