Butternut, like pumpkin, is enhanced by spices such as cinnamon, ginger, and nutmeg. Here it is steamed with whole spices that scent the butternut and then pureed like mashed potatoes, spiced, and tossed with butter. The butternut can be cubed the day before and refrigerated in a covered container. This recipe freezes well.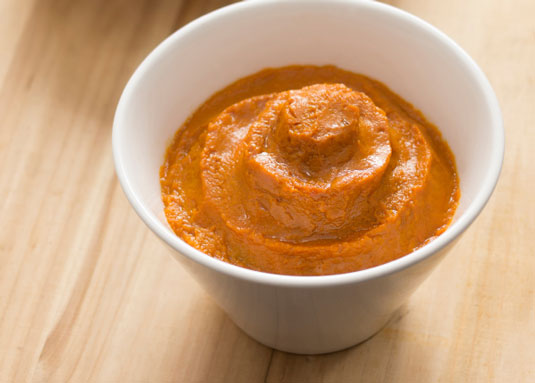 Credit: ©iStockphoto.com/zkruger
Yield: 4 to 6 servings
Preparation time: 15 to 20 minutes
Cooking time: 15 minutes
Spice meter: Mildly spiced
2 to 2-1/2 pounds butternut squash, peeled and cut into -1-inch cubes, about 4-1/2 to 5 cups
6 cardamom pods, crushed slightly with the back of a knife
4 whole cloves
4 whole coriander seeds
2 cinnamon sticks, broken
2 slices fresh ginger, unpeeled
2 bay leaves
2 tablespoons butter
1/3 cup milk or orange juice, warmed
1/4 teaspoon ground cinnamon
1/8 teaspoon ground nutmeg or allspice
Salt to taste, about 3/4 teaspoon
In a medium bowl, combine the butternut, cardamom, cloves, coriander, cinnamon, ginger, and bay leaves.

In a large pot fitted with a steamer, bring water to a boil over high heat. Add the butternut and spice mixture and steam until tender, about 15 minutes. Remove the whole spices with a slotted spoon and discard.

Transfer the butternut to a bowl. Mash the butternut with a masher. Alternatively, puree the butternut in the bowl of a food processor fitted with a metal blade.

Add the butter, milk, ground cinnamon, nutmeg, and salt and stir to mix. Reheat if necessary.
Peel the butternut with a vegetable peeler. Slice it in half, lengthwise, and scoop out the seeds, then cut it into cubes. If necessary, cut off the narrow end before slicing the seed-bearing section in half.
Per serving: Calories 79 (From Fat 39); Fat 4g (Saturated 3g); Cholesterol 12mg; Sodium 301mg; Carbohydrate 10g (Dietary Fiber 3g); Protein 1g.
About This Article
This article is from the book:
This article can be found in the category: