Enhanced with spices, this dense, chocolatey bread is a treat any time of day. Add a little cayenne; it doesn't make the bread hot; it just gives the bread extra zing. Feel free to omit the cayenne if you wish. This freezes well.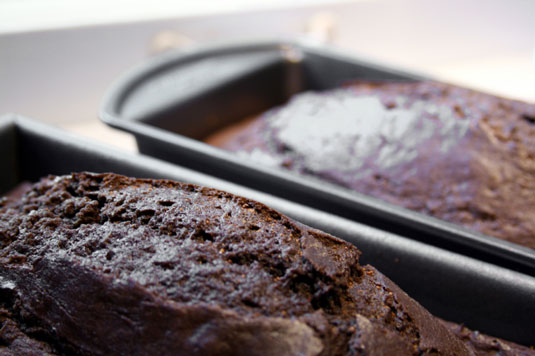 Credit: ©iStockphoto.com/GrabillCreative
Yield: 1 loaf; 12 servings
Preparation time: 15 minutes
Cooking time: 45 to 55 minutes
Spice meter: Mildly to moderately spiced
1-3/4 cup all-purpose flour
1/2 cup unsweetened cocoa powder
1-1/4 teaspoons baking soda
1 teaspoon ground cinnamon
1/2 teaspoon ground ginger
1/2 teaspoon ground allspice
1/2 teaspoon salt
1/8 to 1/4 teaspoon cayenne, or to taste (optional)
1/8 teaspoon ground cloves
2/3 cup sugar
2 eggs
3 tablespoons butter, melted
1 cup buttermilk
Preheat the oven to 350 degrees. Lightly butter a 9-x-5-inch loaf pan or spray with nonstick cooking spray.

In a bowl, combine the flour, cocoa powder, baking soda, cinnamon, salt, ginger, allspice, salt, cayenne, and cloves.

In a separate bowl, combine the sugar and eggs. Whisk together until the mixture has thickened slightly and is a light lemon color. Whisk in the melted butter.

Add half the buttermilk to the wet ingredients, then half the flour mixture, stirring with a wooden spoon after each addition. Repeat with the remaining buttermilk and flour mixture and stir until just blended. The batter will be thick.

Put the batter in the prepared pan and spread it evenly with a rubber spatula. Bake for 45 to 55 minutes or until a toothpick inserted into the center comes out clean. Cool in the pan on a rack for 5 minutes. Remove the loaf from the pan and continue cooling on a rack.
In Step 4, after the buttermilk and flour are blended in completely, add 2/3 cup of either raisins, mini chocolate chips, or chopped nuts (walnuts, pecans, and macadamias work well).
Per serving: Calories 165 (From Fat 41); Fat 5g (Saturated 2g); Cholesterol 44mg; Sodium 262mg; Carbohydrate 28g (Dietary Fiber 2g); Protein 4g.
About This Article
This article is from the book:
This article can be found in the category: