Using fruit in desserts (from cakes to cookies) is common practice in the Mediterranean. Adding fruit to Panna Cotta is a classic dessert choice. Actually, fruit itself is often a simple dessert, which is another key to the health benefits found in the Mediterranean lifestyle.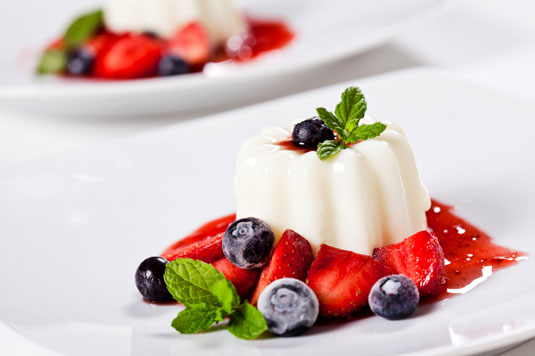 Credit: ©iStockphoto.com/mpessaris, 2012
Panna Cotta
Prep time: 15 minutes, plus chilling time
Cook time: 7 minutes
Yield: 4 servings
1 teaspoon unflavored gelatin
3/4 cup plus 2 tablespoons heavy whipping cream
3 tablespoons whole milk
2 tablespoons sugar
2 tablespoons honey
1 cup blackberries, strawberries, or raspberries
In a small bowl, sprinkle the gelatin over 1/4 cup of the cream.

Allow the mixture to stand for 1 minute to soften the gelatin.

In a heavy saucepan, combine the remaining cream, milk, and sugar.

Bring the mixture to a boil over medium heat while continuously stirring. Remove the mixture from the heat and whisk in the gelatin mixture until the gelatin dissolves.

Pour the mixture into 4 small custard cups and chill for at least 4 hours.

To serve, unmold the panna cotta onto serving plates.

Drizzle honey over each panna cotta and serve with the berries.
Per serving: Calories 260 (From Fat 179); Fat 20g (Saturated 12g); Cholesterol 73mg; Sodium 32mg; Carbohydrate 21g (Dietary Fiber 2g); Protein 2g.
About This Article
This article can be found in the category: