When it comes to packing in the nutrients at breakfast time, you can't get much better than mixing chia seeds with oats. The combined nutrients in chia and oats will get you well on your way to filling up on the daily nutrients needed to give you sustained energy, keep your heart healthy, and keep your digestive system running smoothly.
These recipes are all highly nutritious, and some can be made in advance, so you can easily grab a quick breakfast bowl of oats and chia as you run out the door!
Banana and Cinnamon Porridge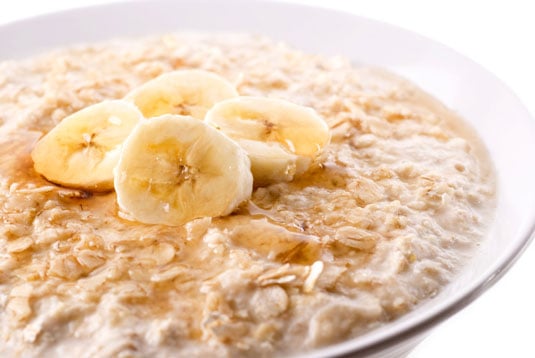 Credit: ©iStockphoto.com/Ockra
Preparation time: 10 minutes
Cook time: 25 minutes
Yield: 4 servings
4 cups 2 percent milk
1 cup steel-cut Irish oatmeal
1/2 teaspoon salt
1/4 cup whole chia seeds
2 ripe bananas, finely sliced
1/2 teaspoon ground cinnamon
2 tablespoons desiccated coconut
4 tablespoons pure maple syrup
In a medium saucepan, bring the milk to a boil.

Sprinkle in the oatmeal, stirring constantly to prevent any lumps from forming.

Add the salt, and turn down the heat.

Simmer for 25 minutes, stirring occasionally to give you a smooth creamy porridge.

Take the porridge off the heat, and stir the chia seeds evenly throughout the mixture.

Divide evenly between 4 serving bowls, and top with the banana.

Sprinkle cinnamon and coconut over each serving.

Drizzle maple syrup over each serving.
Per serving: Calories 443 (From Fat 111); Fat 12g (Saturated 6g); Cholesterol 20mg; Sodium 415mg; Carbohydrate 71g (Dietary Fiber 9g); Protein 34g.
You can keep any leftover porridge covered in the fridge for another day. Simply add some milk or water and heat in the microwave until warm.
Overnight Oats
Preparation time: 10 minutes
Yield: 1 serving
1/2 cup old-fashioned oatmeal
1 tablespoon whole chia seeds
1/2 cup plain nonfat Greek yogurt
1/2 cup unsweetened vanilla almond milk
Stevia, to taste
3 tablespoons fresh raspberries
In a medium bowl, combine the oatmeal, chia, yogurt, almond milk, and stevia; mix well.

Spoon half the mixture into a 12-ounce glass jar.

Add 1 tablespoon of raspberries to the jar. Then add the remaining oat mixture to the jar, and top it off with the remaining raspberries.

Seal the jar and allow it to sit in the refrigerator overnight.

In the morning, grab the jar for a nutritious breakfast.
Per serving: Calories 313 (From Fat 68); Fat 8g (Saturated 1g); Cholesterol 0mg; Sodium 126mg; Carbohydrate 45g (Dietary Fiber 8g); Protein 20g.
If the mixture is too thick in the morning, add some extra almond milk.
Classic Granola
Preparation time: 10 minutes
Cook time: 40 minutes
Yield: 12 servings
5 cups oatmeal
2 tablespoons cashews
2 tablespoons almonds
2 tablespoons peanuts
2 tablespoons pistachios
2 tablespoons pecans
1 tablespoon Brazil nuts
1 tablespoon walnuts
2 tablespoons pumpkin seeds
2 tablespoons sunflower seeds
1/2 teaspoon salt
1/2 teaspoon ground cinnamon
1/2 teaspoon ground ginger
1/2 cup stevia
4 tablespoons cashew butter
6 tablespoons sunflower oil
1/2 cup whole chia seeds
1/2 cup raisins
Preheat the oven to 300 degrees F.

In a large bowl, mix the oatmeal, cashews, almonds, peanuts, pistachios, pecans, Brazil nuts, walnuts, pumpkin seeds, sunflower seeds, salt, cinnamon, ginger, and stevia.

Add the cashew butter and sunflower oil.

Stir well, and spread out over 2 large baking sheets.

Bake for 30 to 40 minutes, stirring at 15 minutes and again at 25 minutes.

Stop baking when the granola begins to smell good and looks golden. It won't be crunchy at first.

Allow to cool and pour into a large bowl.

Add the chia and raisins.

Store in an airtight container, and enjoy for up to 2 weeks.
About This Article
This article is from the book:
This article can be found in the category: