Most store-bought salsas have too much sugar and vinegar, so they aren't nearly as good for the diabetic as the homemade variety. Why bother with those versions when it's so easy to create your own? Although salsa simply means "sauce," you'll agree that these salsa recipes taste anything but simple.
Add the standard salsa seasonings to any grain or legume for a tasty and nutritious treat anytime. You can flavor cooked brown rice, quinoa, or any cooked beans with any of these tasty additions:
Cilantro

Garlic

Lime juice or lemon juice

Onions

Peppers (such as serranos and jalapeños)

Tomatoes
Check out the following salsa recipes, which use these delicious ingredients.
Use caution when slicing and dicing hot peppers such as jalapeños. Use your knife, not your fingers or fingernails, to remove the super-spicy ribs and seeds, and consider wearing gloves if you have sensitive skin. The pepper oil can get stuck under your nails, making it painful to touch your eyes, nose, or any other moist parts later. And if your skin is exposed to sunlight with residual pepper oil, you can get a nasty burn.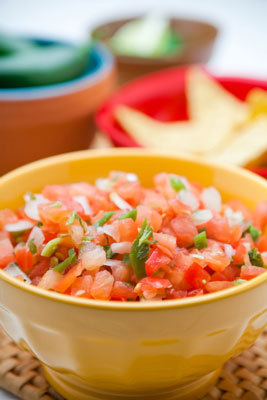 Credit: ©iStockphoto.com/tacojim
Mexican Salsa
Preparation time: 10 minutes
Yield: 4 servings
1⁄2 teaspoon lemon juice
1⁄2 teaspoon salt
1 pound fresh tomatoes, cored and chopped
1⁄2 medium onion, diced
1 tablespoon fresh chopped jalapeño pepper
1 small garlic clove, chopped fine
1 teaspoon fresh chopped cilantro
In a mixing bowl, combine the lemon juice and salt. Stir to dissolve the salt.

Add the tomatoes and coat them with the juice. Add the onion, jalapeño, garlic, and cilantro and stir.
Per serving: Kcalories 30 (From Fat 4); Fat 0g (Saturated 0g); Cholesterol 0mg; Sodium 301mg; Carbohydrate 7g (Dietary Fiber 2g); Protein 1g.
If you like a smooth rather than chunky salsa, toss all the ingredients in a food processor and process the mixture in pulses until it reaches the consistency you desire.
About This Article
This article is from the book:
This article can be found in the category: