Traditional pasta dishes are high in carbohydrate and often contain high-fat ingredients, but if you have diabetes, you don't have to take pasta off the table completely. The recipes here are great, healthier alternatives to heavy pasta dishes.

Making a few simple changes to your average pasta dish can transform it into a balanced and nutritious meal. For example, using whole-wheat pasta instead of regular pasta can increase the dish's fiber content, and adding nonstarchy vegetables to a recipe is a great way to make it hearty and flavorful without a lot of extra carbohydrate. The recipes in this chapter take advantage of these and other healthy changes to bring you diabetes-friendly pasta dishes that everyone will love!

People with diabetes can still eat all kinds of foods. The key is moderation! So, if you're craving a favorite dish or a rich dessert, it's okay to indulge once in a while. Just make sure you control your portion sizes and account for the dish in your diabetes meal plan. It's probably best to save these treats for special occasions, but it's important to enjoy the foods you love.
Eggplant Lasagna
Preparation time: About 15 minutes

Cook time: 1 hr 20 minutes

Servings: 6

Serving size: 1 (4-1/2-inch) square
Ingredients
1 tablespoon extra-virgin olive oil, divided
1-3/4 cups chopped onion
2 medium garlic cloves, minced
One 14.5-ounce can no-salt-added diced tomatoes, undrained
5 tablespoons no-salt-added tomato paste
1/2 cup water
2 tablespoons freshly chopped parsley
1 teaspoon finely chopped fresh oregano
4 tablespoons finely chopped fresh basil
Freshly ground black pepper
1 large (1-1/2-pound) eggplant, peeled and sliced into 1/4-inch slices
1 cup shredded reduced-fat mozzarella cheese
1 cup nonfat ricotta
4 tablespoons freshly grated Parmigiano-Reggiano cheese
Directions
Preheat the oven to 350 degrees F.
Coat a large skillet with 1/2 tablespoon of the olive oil. Add the onion and garlic, and sauté over low heat until the onion is tender, about 6 minutes.
Stir in the tomatoes, tomato paste, water, parsley, oregano, basil, and pepper. Bring the mixture to a boil. Reduce the heat and simmer, covered, for 30 minutes, stirring occasionally.
To steam the eggplant slices, place 1 inch of water in a large pot. Arrange the eggplant slices on a steamer, cover the pot, and steam until the eggplant is tender, about 5 minutes. Do not overcook.
In a medium bowl, combine the mozzarella and ricotta cheese together, and set aside.
Coat a 13-x-9-x-2-inch baking pan with the remaining 1/2 tablespoon olive oil, and place half of the eggplant in the pan. Top the eggplant with half of the cheese mixture and half of the sauce, and sprinkle with half of the Parmigiano-Reggiano cheese. Repeat.
Bake at 350 degrees F for 30–35 minutes and serve hot.
This hearty vegetarian entree can be made ahead and frozen.
Per serving: Choices/Exchanges 4 Nonstarchy Vegetable, 1 Lean Protein, 1 Fat; Calories 180 (from Fat 60); Fat 7g (Saturated 3.1g, Trans 0.0g); Cholesterol 25mg; Sodium 220mg; Potassium 530mg; Total Carbohydrate 20g (Dietary Fiber 4g; Sugars 10g); Protein 14g; Phosphorus 240mg.
Vegetable Lo Mein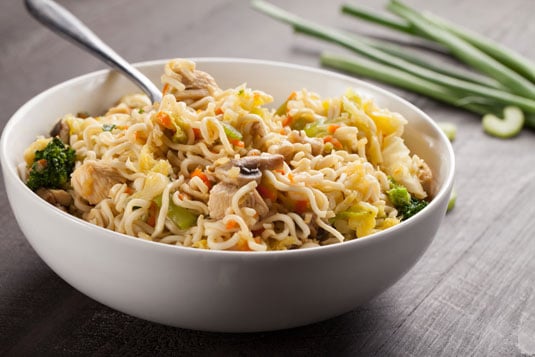 Vezzani Photography/Shutterstock
Vegetable lo mein is easy to make and a great way to get some veggies in your diet.
Preparation time: About 15 minutes
Cook time: 10 minutes
Servings: 8
Serving size: 1 cup
Ingredients
1 cup plus 2 tablespoons low-sodium chicken broth
2 garlic cloves, minced
1/4 cup minced scallions
2 teaspoons grated fresh ginger
2 carrots, peeled and cut into 1/4-inch slices
3 celery stalks, cut on the diagonal into 1/4-inch slices
1/2 cup sliced mushrooms
1-1/2 cups broccoli florets
2 tablespoons dry sherry
1 tablespoon light soy sauce
1 teaspoon sesame oil
1 tablespoon cornstarch
1/2 pound cooked whole-wheat vermicelli
Directions
1. In a large skillet or wok, heat 2 tablespoons of the broth. Add the garlic, scallions, and ginger, and sauté for 30 seconds.

2. Add the carrots, celery, and mushrooms, and sauté for 5 minutes. Add the broccoli and 1/2 cup of the broth, cover, and steam for 5 minutes.

3. In a small bowl, combine the remaining 1/2 cup of broth with the sherry, soy sauce, and sesame oil. Add the cornstarch and mix well.

4. Remove the cover and add the cornstarch mixture. Cook for 1 minute more until the mixture thickens. Toss in the cooked noodles and mix well. Serve.

Swap out vermicelli for rice for a delicious Asian stir-fry.

Per serving: Choices/Exchanges 1/2 Starch, 1 Nonstarchy Vegetable; Calories 80 (from Fat 10); Fat 1g (Saturated 0.2g, Trans 0.0g); Cholesterol 0mg; Sodium 120mg; Potassium 240mg; Total Carbohydrate 13g (Dietary Fiber 2g; Sugars 2g); Protein 4g; Phosphorus 75mg.
About This Article
This article is from the book:
This article can be found in the category: