This Sephardic grilled chicken appears on the barbecues of homes and restaurants throughout Israel. With its Mediterranean marinade, the grilled chicken is a succulent and flavorful main dish.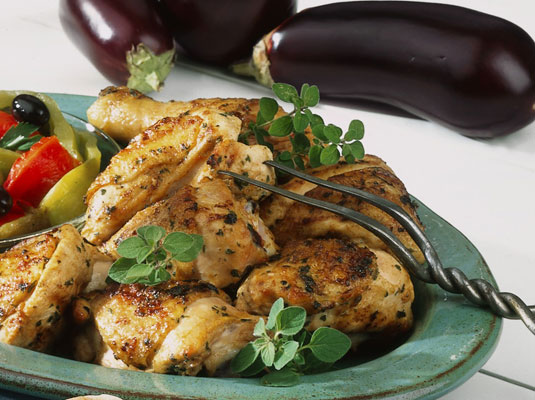 Preparation time: 10 minutes, plus at least 4 hours for marinating chicken
Cooking time: 40 minutes
Yield: 4 servings
Keeping kosher: Meat
2 lemons
2 large garlic cloves
3 small sprigs fresh thyme, or 1 teaspoon dried
1/4 cup extra virgin olive oil
1 teaspoon dried oregano
1/2 teaspoon ground black pepper
Pinch of cayenne pepper
2 1/2 to 3 pounds chicken pieces
Salt (optional) and freshly ground black pepper to taste
2 teaspoons ground cumin, preferably freshly ground
Juice the lemons.

Crush the garlic cloves.

Break the fresh thyme sprigs into pieces.

In a shallow baking dish large enough to hold the chicken, mix 1/4 cup lemon juice, garlic, thyme, oil, oregano, 1/2 teaspoon black pepper, and cayenne.

Put the chicken in the dish and turn pieces over to coat all sides with marinade.

Cover and marinate the chicken in the refrigerator for at least 4 hours or overnight.

Turn the chicken in the marinade from time to time.

Remove the chicken from the marinade, removing any pieces of thyme or garlic stuck to chicken.

Discard marinade.

Sprinkle chicken with salt, freshly ground pepper, and cumin on both sides.

Prepare your barbecue for indirect heat.

Heat charcoal barbecue until the coals are glowing; or heat gas barbecue to medium.

Set chicken on rack about 4 to 6 inches above heat source.

Grill breast pieces for 20 minutes per side, and leg and thigh pieces for 30 minutes per side, or until thickest part of meat near bone is no longer pink

You can cut the chicken to check for doneness.

Serve hot.
About This Article
This article can be found in the category: