Ideal latkes (potato pancakes) are lacy and crisp — and this recipe delivers. Delicious potato latkes are a Hanukkah tradition in many Jewish families, but they're always a hit at any kind of party, at dinners, or as a savory snack. Serve them with applesauce, sour cream, or yogurt.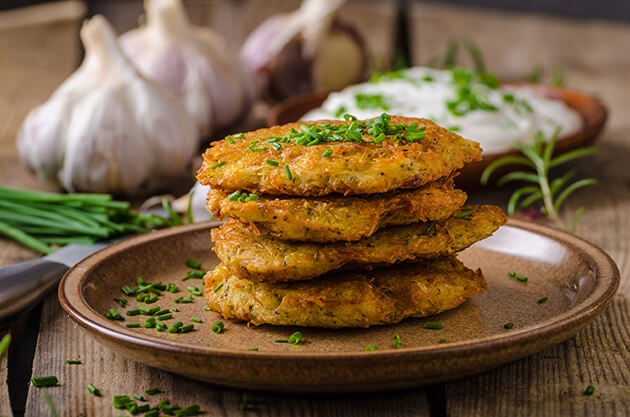 ©Stepanek Photography / Adobe Stock
In kosher kitchens, sour cream is not served with latkes if they accompany meat or poultry dishes, but you may find applesauce on the table. Usually, you don't need additional toppings for latkes when they are companions for main dishes like stews or any that come with a sauce. You simply spoon some of the sauce over the latkes, too.
Light and Crispy Latkes (Potato Pancakes)
Special tool: Food processor with large grating disc or hand grater

Preparation time: 20 minutes

Cooking time: 30 minutes

Yield: 4 servings (12 to 15 pancakes)

Keeping kosher: Pareve

1-1/4 pounds large potatoes, peeled

1 medium onion

1 egg, lightly beaten

1 teaspoon salt

1/4 to 1/2 teaspoon white pepper

2 tablespoons flour

1/2 teaspoon baking powder

1/2 cup vegetable oil, more if needed
Using coarse grating disc of a food processor or large holes of a hand grater, grate potatoes and onions, alternating them. Transfer the mixture to a colander. Squeeze mixture by handfuls to press out as much liquid as possible; discard liquid.

Put potato-onion mixture in a bowl. Add egg, salt, pepper, flour, and baking powder.

Heat 1/2 cup oil in a deep heavy 10- to 12-inch skillet. For each pancake, add about 2 tablespoons of potato mixture to pan. Add 3 or 4 more pancakes. Flatten with back of a spoon so that each measures 2-1/2 inches. Fry over medium heat for 4 to 5 minutes. Using 2 pancake turners, turn them carefully. Fry second side about 4 minutes, or until pancakes are golden brown and crisp.

Drain on a plate lined with paper towels.

Stir potato mixture before frying each new batch. If all the oil is absorbed during frying, add 2 or 3 tablespoons more oil to pan. Serve hot.
About This Article
This article is from the book:
This article can be found in the category: