Just as building your online reputation is an ongoing process, so is maintaining that reputation over the course of your career and job searches. When you monitor what people are saying about you, you can find inaccuracies before they spread, which gives you a chance to address problems quickly. Monitoring also helps you discover when people are saying good things about you so you can thank them.
Monitoring allows you to track your progress as you build your online reputation. When you see your content show up in search results, you begin to realize that you have more control over Google than you once thought possible. It's really cool to see yourself coming up more and more on Google week after week.
Set up alerts
Although it's a good idea to search for your name once a month, keeping this habit up over time is difficult. You'll forget one month and then the habit will be lost. The best way to monitor what's going on in search results is to set up a Google Alert for your name.
A Google Alert is a reverse search. As soon as Google indexes a piece of content with your search term, you get an alert or notice from Google. These notices tell you when your search term (in this case, your name) is processed by a robot as soon as it happens.
To set up a Google Alert for your name, type in your full name in quotations. All you need to do next is set Type to Everything and How often to once a day. Then have the alerts sent to your e-mail address. If your name wasn't indexed, you won't get an e-mail.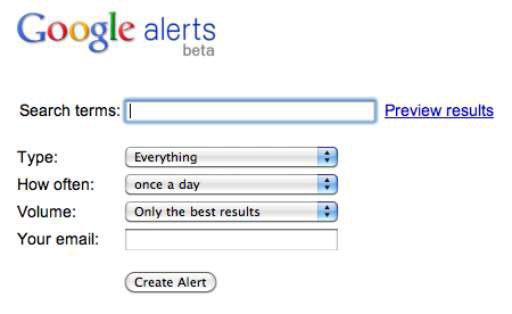 If you want to monitor your presence in social media, you'll be pleased to know that you can set up alerts through Social Mention just like you can with Google. After searching for your full name in quotations at the Social Mention site, choose the E-mail Alert link. You'll get an e-mail every time someone blogs about you, tweets about you, or says anything about you on social media.
Note: The results in your Social Mention alerts typically will be much different from those in your Google Alert.
Schedule regular maintenance
Assessing and building your reputation may be activities you focus on for your job search, but you also need to monitor and maintain your reputation throughout your entire career. Unless the Internet disappears, you need to manage your online reputation. Think of it as an ongoing chore, like taking your car in for an oil change. Somewhere in the calendar you use to schedule your time, create the following ticklers:
Every month, review your Google Alerts and Social Mention alerts.

Every six months, search your name using Google, ZoomInfo, and Pipl.

Once a year, take stock of your online presence
About This Article
This article is from the book:
This article can be found in the category: